Running StarCraft II on a 6-Year Old Pentium M Laptop
When Blizzard mentioned that they took into consideration lower spec-ed machines when developing StarCraft II, I was wondering whether my 6-year old laptop is able to run the game. Well, let me tell you something. I'm 7 missions into the single player campaign and the game is still running on my Pentium M 725 (1.6 GHz) Dell 8600 laptop.
The Pentium M heart has more in common with the Pentium III Tualatin processor rather than the Pentium IV although I know for a fact that this laptop runs faster than my ill-fated Pentium IV 2.8 GHz rig (that's why I took a leap of faith and installed StarCraft II). Back in the day this was a top of the line Centrino machine with a 128 MB ATI Mobility 9600 PRO Turbo graphics card, which thankfully is a Direct X 9.0 card. On another note, I've upgraded this laptop's RAM last year  to 1.5 GB and it's still running Win XP.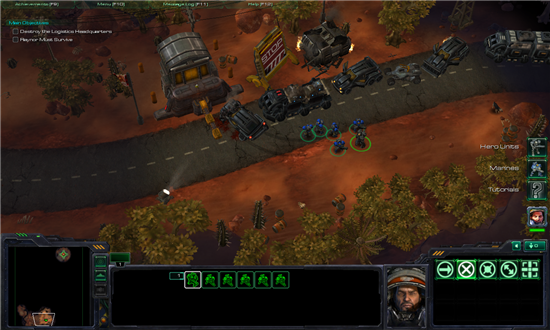 OK, let's talk about experience. My setup only allows the game to be run at low graphics settings, at a resolution of 1280 * 768. The game still looks pretty though, it must be due to the attractive colour palette and the amazing environments that the levels take place in. Have you guys tried the lava level? It's looks amazing. In any case, there are slow downs whenever the action kicks up a notch.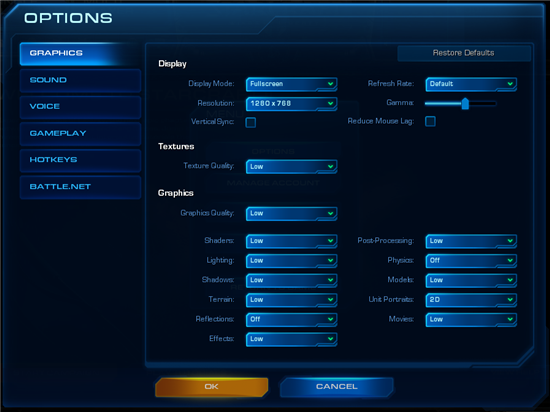 The game does drop in-game messages (similar to the autosave message style) to kill other processes in other to free up more resources for StarCraft II but never did it dump me out to the Desktop. I can hear the 8600's single fan (it tackles the cooling for both processor and graphics card, with heat pipes) screaming the entire time I'm running StarCraft II but it seems to be under control. The last time I experienced this was with Civilization IV and with that game, you are almost certain of BSODs due to overheating.Do note however that running StarCraft II on a setup like mine is not for those in a hurry, levels take up to 2 minutes to load.
IGN came up with an interesting video showing the differences in what you can get with two different systems, one being a low-end machine, the other being a high-end screamer. Check out the comparison video below on one of the in-game cutscenes:
Blizzard did deliver on their promise that the game will run on lower-spec machines; I even went on a 4 mission binge without the need to occasionally stop and exit the game. The fan noise might be crazy but I'm using earphones :).
P/S: This whole post may sound a little pathetic since my main PC gaming rig is this 6-year old laptop that I'm typing on but this is exactly why I quit the whole PC arms-race thing. I've gone through the whole upgrade cycle thing, changing my PC once a year for 5 years with the last one blowing its motherboard late last year…this laptop (Michael Dell should get a knighthood) has survived all 5 PCs. For everything else except for RTS games, there's always the PS3, Nintendo DS and my iPhone.
PP/S: Anyone willing to donate a mid-to-high-end rig?
Powered by

Sidelines
Previous Post Qalvinius (iPhone) Review: Unimpressive and Disappointing in One Package
Next Post New Linkin' Park/Medal of Honor Video: The Catalyst