Shazam (iPhone) Review
Back when I was kid we used to have this really thick book with a lot of lyrics in it. I think it was titled Let It Be Me. It was pretty useful provided you know the title of the song, as the index listed the song titles. This was back in the 80s and you can imagine how difficult it was to find the lyrics for something like Ai No Corrida when you heard it off the radio and had no idea how to spell it (and the DJ conveniently doesn't announce the name of the song, or you missed the announcement).
The Internet did make things easier. Google's search algo is smart enough that you can even enter bits and pieces of the song lyrics and get a decent result. This however requires the presence of a computer or at least a web browser. While I still use Google as my primary means to look for stuff, it doesn't help when I'm in the car and I need to find out the title of the song that is currently on air.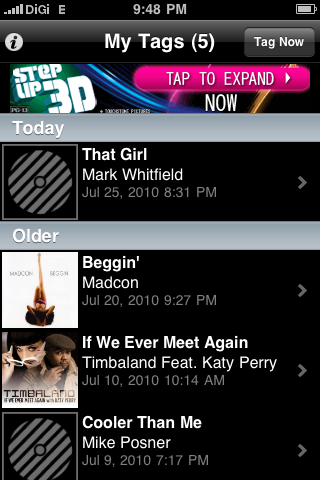 In this case, I use Shazam, an app on my iPhone. Just set it to listen to the song (it just requires two clicks…one to start the app, the second to tag the track…as in listen to it) and it almost always come back with positive on the song. It doesn't matter whether the song has vocals or not, it even managed to ID a jazz track by Mark Whitfield. The app will listen to several seconds of the song before analysing that portion, which I assume is sent to a server somewhere for analysis, thus requiring a data plan or a WiFi Internet connection.
The free version of Shazam that I'm using now does come with limitations. For starters you can only tag like 5 songs a month. I wonder should I invest 5 bucks on Shazam Encore, which allows for unlimited tagging. That day will come once I'm hitting the 5-tags-a-month wall a little too often. In any case, do check out Shazam over at the App Store, I'm pretty sure that you'll find it useful especially when you are listening to alot of music: https://itunes.apple.com/us/app/shazam/id284993459?mt=8
Powered by

Sidelines
Previous Post Comic-Con News: Green Lantern Game, inFAMOUS 2, Street Fighter X Tekken
Next Post Reporting From The Battlefield