Check Out My God of War and Pac-Man T-Shirts
I like nice surprises, and one of them includes having 2 t-shirts arrive via mail today thanks to the kind folks over at WearYourBeer.com. The two t-shirts that arrived feature their latest video game related designs, one being God of War and the other, Pac-Man.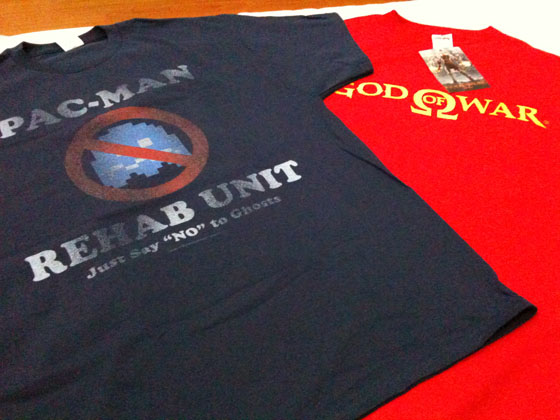 The God of War Cronos Red T-Shirt is an officially licensed t-shirt featuring yellow God of War designs on the front and back of the shirt. Likewise, the Pac-Man Rehab Ghosts Navy Tee Shirt is an officially licensed item featuring a distressed print on the front that says "Pac-Man Rehab Unit – Just say 'no' to ghosts'. Both t-shirts are 100% cotton and are part of a much wider range of "themed" clothing and merchandise available for sale at WearYourBeer.com
Having grown from stocking merchandise featuring their favourite beer logos (hence the name WearYourBeer), WearYourBeer.com offers a wide variety of pop-culture brands ranging from music and TV, to superheroes, video games and many more. Other than the cool designs, I also love the fact that these guys ship internationally. Here's an interesting thing to note: Despite rising competition, WearYourBeer.com has the distinction of being the largest selection of beer gear on the Internet!
So be sure to check out WearYourBeer.com. Enter the code "NL10" for 10% off on your next order (the code expires on the 31st July 2010)
Powered by

Sidelines
Previous Post Handmade Sackboy Dolls Galore
Next Post Video Game Scribblings