Apps in iTunes – A Case for Better Management Tools
I just finish sorting out my bookshelf in my room and after doing a headcount, there were about 70+ books, several comic books, graphic novels and issues of EDGE and Retro Gamer. The bookshelf houses mostly sci-fi, horror and non-fiction books. The general fiction books are outside on another bookshelf outside my room. I think I'll need another bookshelf as these Billy bookshelves from IKEA have an occupancy status of "FULL".
In any case, I wish I can sort out the iPhone apps on iTunes into user-specified categories rather than rely on the list by "Genre" option. While iPhone OS 4 offers folders (finally!), I still need better app management facilities on iTunes. Since I usually get apps as part of reviewing them, it would be cool to categorise the apps as "Keepers", "So-so" and "Don't touch with a 10-foot pole".
Just in case you are wondering, I've about 230+ apps in iTunes. Check out the screenshot below: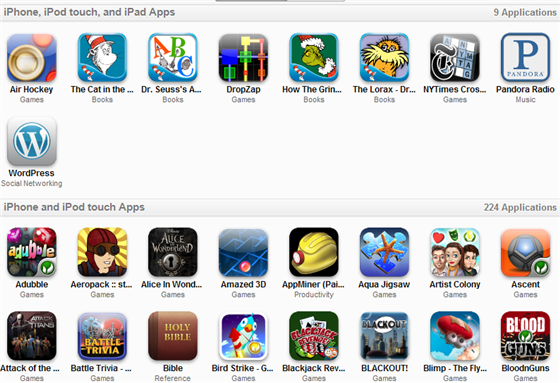 Powered by

Sidelines
Previous Post Konami Announces Castlevania Puzzle: Encore of the Night for iPhone/iPod touch
Next Post Reasons on Why You Should Visit i-City at Shah Alam