Alice in Wonderland (iPhone) Preview
Now this is interesting. Not everyday one gets to preview a movie tie-in video game on the iPhone, and more so, one that doesn't suck. At first glance Alice in Wonderland looks like one of those 2D Castlevania games on the DS, which I might say, makes it look pretty darn cool.
The demo plays like Castlevania but eschews combat  for puzzle elements. You get to recruit team members to your party, the first being the White Rabbit who can control time but is immobile when you select him.You can use him to freeze or unfreeze moving platforms and obstacles.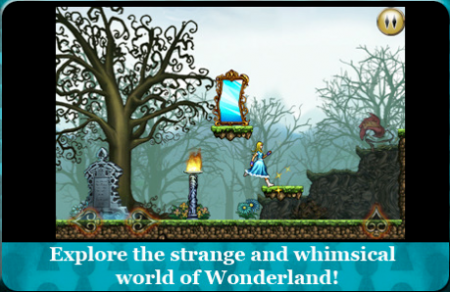 One of the cooler features of the game happens when you get stuck at a particular part of the level where you can't pass. Look out for mirrors that will transport you to the mirror world, a reflection of the level and going through them would mean you successfully negotiated the obstacle. Think of them as the sewer pipes in Mario, but with a twist.
The demo for Alice in Wonderland comes with the first two levels from the full game, several unlockables (scattered on the levels) and a trailer from the movie. I can't think of a better idea to promote a movie than a really good video game tie-in such as this. Kudos to Disney for coming up with the game in the first place.
You can download the demo over here, be sure to check it out.
Powered by

Sidelines
Previous Post Diner Dash 2.0 (iPhone/iPod Touch) New Screens and Video
Next Post Oceanhouse Media Launches Two New Dr Seuss Interactive E-book Apps (iPhone)