Disney's Digicomics Launches New Content for the iPhone/iPod touch
Looks like everyone is jumping on the digitial comics bandwagon; have you checked out the Archie comics on the iPhone? Anyways back in December, Disney introduced the Digicomics app for the iPhone/iPod touch.
This app is a collection of the most successful Disney comic books from around the world.  The app allows users to choose from dozens of comics including Mickey Mouse's epic adventures in Wizards of Mickey; Casablanca, and The Adventures of Tom Sawyer starring your favorite Disney characters.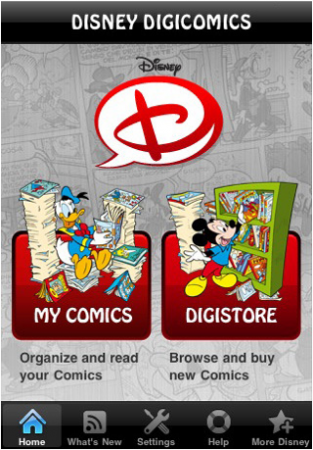 Disney's Digicomics features:
Two free downloads from the Digistore: Disney's A Christmas Carol featuring Scrooge McDuck, and SuperDuck.
The ability to purchase and download additional comics from the Digistore. It is loaded with dozens of comics including complete sets and volumes with new comics made available every week. Search characters and categories or browse Featured and Top Rated comics. Prices range from $0.99 to $1.99
Digicomics is tailor made for the collector. Collect complete sets of comics by character or category. You can even share pictures of your comics with friends.
Read your comics by scrolling pages or choose the Autoplay function and custom set your reading speed. Includes a handy Bookmark feature.
Includes comics from acclaimed writers and artists such as Stefano Ambrosio, Lorenzo Pastrovicchio, Giorgio Cavazzno, and many more.
New comics now available for purchase in Disney's Digicomics include
A Christmas Carol #2
Donald Duck Agent Qu-Qu 7: A Diamond Jam
Mickey Mouse and the Flavored Bubbles
Scrooge McDuck and the Saint Valentine Trick
Superduck #2 Toyland
The Canterville Ghost
Digicomics is also available on Sony's PlayStation Portable (PSP) through the PlayStation Network's Digital Comics Service which launched in December 2009. Check out the iPhone/iPod Touch version of Digicomics over here.
Powered by

Sidelines
Previous Post Battle of the iPhone Geometry Wars Clones
Next Post Get Cheap Video Games At Play-Asia's Lunar New Year Sale