Surrogates Review: Comic Book vs. Movie Adaptation
I managed to catch Surrogates on the big screen last Saturday, and having read the graphic novel (titled The Surrogates) beforehand, there were plenty of surprises as the movie took a lot of liberties with the source material.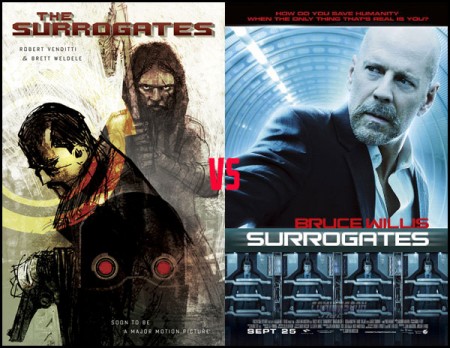 The end result was something pretty tepid, but I guess that is what happens when you try to throw a few curve balls but all of them turned out to be duds. I wouldn't mind if the movie turned out to be Die Hard 5 with Robots, but if the end result doesn't even match up to the source material, which was a pretty smart and edgy sci-fi book in its own right.
Anyways, if you have not watched the movie, but intend to do so, you can pretty much skip the following, but if you want to read about the changes done when the story was transferred from print to celluloid, feel free to continue:
In the graphic novel, the protagonist is a police lieutenant named Harvey Greer, this was changed to Tom Greer, an FBI agent, in the movie, and was potrayed by Bruce Willis.
Harvey's police partner in the graphic novel, Sergeant Pete Ford is replaced by a female FBI agent, Jennifer Peters in the movie.
The graphic novel's antagonist was Lionel Canter, the original creator of the surrogates (surries) who used a single surrie nicknamed Steeplejack. This surrogate was equipped with the ability to discharge electricity at lightning bolt strengths and was used to destroy several surrogates, including Greer's.
The movie's antagonist is the same person, but goes about his business the conventional way, using multiple surrogates units. The motives of both print and celluloid characters however are just about the same.
The human body count in the graphic novel is virtually nil, save for the death of The Prophet at the hands of Steeplejack (Lionel  Canter). The movie changes this with surrogate deaths due to the use of a special weapon resulted in the death of their operators as well. The Prophet turns out to be another of Lionel Canter's surries.
In the movie, the Army invades the Dread reservation looking for the surrie (and operator) killing weapon. In the graphic novel, the Dreads take to the streets and destroy VSI's building after the mass surrie deactivation.
Greer's wife commits suicide at the end of the graphic novel, after, like many other operators, lost their surries to an attack perpetrated by Lionel Canter. In the movie, Greer deactivates the surries and his wife does not commit suicide, resulting in a somewhat happily ever after ending in a post-surrie world
There are plenty more differences, and if you are still curious, check out  both the book and the movie.
Powered by

Sidelines
Previous Post Hi, How Are You (iPhone) Review
Next Post Need for Speed: Shift – Racing in Brands Hatch (Track Guide Video)