Get 10 PS3 Trophies An Hour With Matt Hazard
Eat Lead: The Return of Matt Hazard can be a headache inducing affair on the PS3. Lousy graphics, lots of clipping, and a pretty wonky camera, it has issues.
Written by 2008 Writers Guild of America Videogame Writting Award Winner, Dave Ellis, the game makes up for its shortcomings by making tongue-in-cheek references to the likes of Duke Nukem, Arnold Schwarzenegger, James Bond movies, etc etc.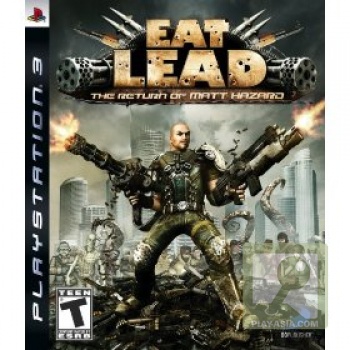 If you must know, the game is about a retired video game star coming back for a new video game but finds that he is slated to be replaced in a first level plot twist. Poor guy.
Anyways, it's also a game for trophy whores, not that I'm one of them. I played the game for an hour and I netted not 1 but 9 bronze trophies (you even get one surviving a level unscathed and one for pausing the game for the first time)  and a silver one.
I deem that to be a really impressive ROI. Come tonight…"It's Hazard Time!" Matt Hazard is currently available at a bargain bin price over at Play-Asia. Check it out here.
Powered by

Sidelines
Previous Post Cheap Terminator Trophies and The Art of Scribbling in Scribblenauts (NDS)
Next Post Cheap HORI Real Arcade Pro & Fighting Stick EX2: Get Them Now