iPhone Review: Zombies & Me
Zombies & Me. We always shared a love and hate relationship. I always loathed that they wanted nothing more than my brains, and I always loved the way they break apart when I blew them to bits with an assortment of handguns. Ahh…such good times.
But when all else fails, and zombies take a turn to threaten your grandma instead, they have gone too far. For this very reason, you don't need no handgun, you need bombs, lots of them. Such is the premise of Electronic Art's latest offering for the iPhone/iPod Touch platforms, Zombie & Me.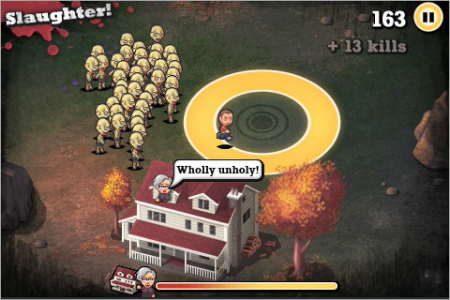 Your task is pretty simple, guide your character around the modest compound of Granny's house, and make the hordes of zombies follow you to specific bomb drop zones. Once within the drop zone, the zombies can't help but to stop and stare at the missile coming down courtesy of the military.
The game is pretty easy in the first 30 seconds and things get pretty hairy right after that with hordes getting larger and coming from almost everywhere. The Zombie Survival Guide: Complete Protection from the Living Dead (Paperback, ISBN: 1400049628) wouldn't do much here as you've got nothing else but to keep on running.
The game however does allows you to shake off the zombies (by tapping the screen repeatedly) when surrounded but the main idea here is to keep moving and get them away from sweet old Granny's house. But remember, they'll get you…eventually….(cue Michael Jackson's Thriller).
Zombies & Me can be a pretty fun, and also frustrating little time waster, but with a price tag of just 99 cents, it's a bargain. Check it out over at the iTunes store (click here for details).
Powered by

Sidelines
Previous Post Movies To Watch in Second Half of 2009
Next Post PSP Bargain Bin Titles