Nintendo DS Review: Anno: Create a New World
Ubisoft will have you believe that the basic needs for people back in 1404 were wood, church, milk and grain, in that order with their latest real-time strategygame for the Nintendo DS. The latest in the Anno series of games, Dawn of Discovery (a.k.a Anno – Create a New World) is basically a city-building game set in a Caribbean-islands setting.
You play as one of sons of King George, out to colonize islands that wouldn't look out of place from the Caribbean (complete with sunken treasure and non-violent corsairs, more on that later) to provide food for the kingdom of Occidental.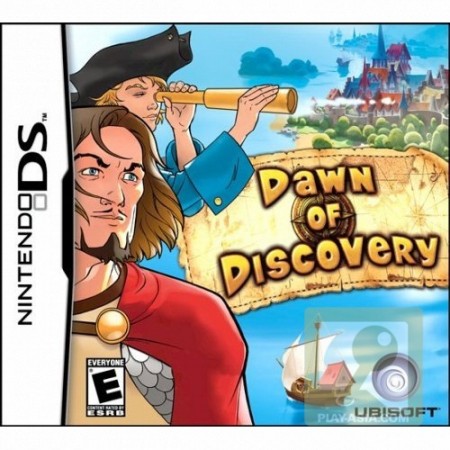 While PC-based city-building games such as Simcity and even derivitives such as Transport Tycoon feature a diverse set of options for players to choose form, but Dawn of Discovery is incredibly linear or some might say formulaic in its approach. This design works well on the DS, enabling players to finish a particular level quickly in  less than 30 minutes.
Wouldn't it be boring? Dawn of Discovery's selling point is in its mid to end-game experience, where the formulaic start gives way to a reallydiversified tech-tree with island space being the only hindrance to implementing all of them.
The game's interface is geared for this kind experience, and while all the shortcut keys are a nuisance in the earlier levels, they enable you to traverse the vast amount of ocean between your island colonies in a jiffy once you have everything going.
Aside from all the city, I mean, colony-building activities, players can purchase treasure maps and set sail for a treasure hunting mini-game of sorts. The game is true to the phrase X marks the spot and players should be cautioned that corsairs will make a go for your ship and grab the treasure (this being a E-rated game, no form of violence takes place).
It's been a while since I've last played a game such as Dawn of Discovery and unlike it's earlier predecesor on the DS, Dawn of Discovery is a much more colourful and enjoyable experience, playing to the strengths of the DS rather than trying to do everything at once. Even the sprites are bigger (so you wouldn't need to squint).
The European version of the game is out now, but it is also coming out in the US in June 2009. Click here to make your pre-order.
Powered by

Sidelines
Previous Post King of Fighters XII: 5 Brand New Videos!