McD's Quarter Pounder Ad Borders on Being Ridiculous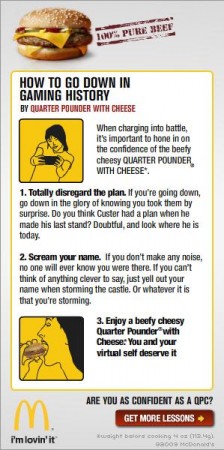 Dear McDonalds, am I supposed to feel as confident as a Quarter Pounder with Cheese (QPC)? No, if I were a QPC, I would be having a nervous breakdown over the fear of being eaten shortly after being taken out from the kitchen to the counter. Not to mention that I would also feel fat and cheesy as well. That doesn't inspire much confidence eh McDonalds?
Powered by

Sidelines
Previous Post Killzone 2 Insignia Similar to Nazi SS Logo?
Next Post Trivia: How Many Games Were Released for the Super Famicom?