Space Puzzle Bobble (NDS) ~ A Review
I didn't know that Nine Over Ten 9/10 is linking to an emo-blog. Teenagers these days, complaining about what they can't get, in this case a laptop. I used to lug around a 5 kilo laptop with a RM 13,000 price tag back in college. I didn't complain as having a laptop was sheer convenience (when it came to presentations, and doing assignments when the labs were full) to begin with.
Anyways. Here's a throwback to times when things were a bit simpler, the latest iteration of the Puzzle Bobble series, Space Puzzle Bobble. Which could mean one thing, the cute dinosaurs are back.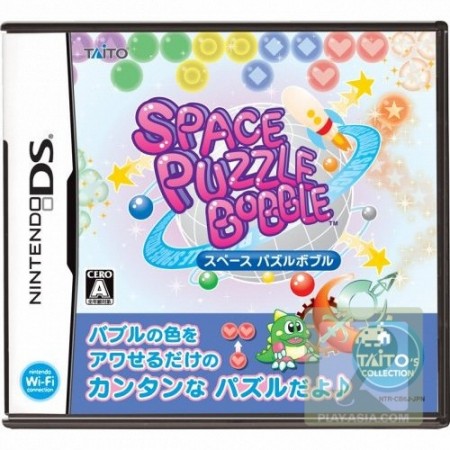 If you haven't guessed from the title, Space Puzzle Bobble is a puzzle game; you shoot bubbles of different kinds upwards into a formation of overhanging bubbles. Somewhat like Tetris, shooting a bubble into a collection of 2 or more bubbles of the same type will cause the collection of bubbles to disappear.
The bubble launcher is controlled by the D-pad and you can use the walls to bounce your bubble shot into hard to reach places in the bubble formation.
The objective of the game is pretty simple for the story and versus AI modes; just clear out the formation of bubbles. Should the formation reach the bottom of the screen, it's game over.
For Those Who Take "Casual" Seriously
There's also an endless mode which is pretty much self-explainatory; play until you get overwhelmed by bubbles. Just be sure to switch the background music off, it WILL drive you crazy. To keep things interesting, there are also 3-minute and 5-minute challenge mode, where the player will have to work to best the previous high-scores set within the aforementioned time limit.
Being a Taito published game, I'm glad that they stuck with having all the action in the one screen, eliminating the problems caused by the gap in between the screens like in Arkanoid DS where it was considered an area in play!
Look and Feel
Graphics wise, there are not many frills in this 2D game. Even the special effects are muted. The game supports both local WiFi play and WFC connectivity.
The Bottom Line
Being a Japanese import, Space Puzzle Bobble is a little on the import friendly side. The menu text are in Japanese (don't be fooled by the Press Start text), but once you know which is for what game mode, you are all set to go.
The game is a good time-killer, like the Tetris clone that you like playing on your phone while waiting for your girlfriend/spouse trying on clothes in the store. And it certainly beats reading some emo-kid's blog.
Where to Buy?
Interested in getting a copy of Space Puzzle Bobble? Click here for purchasing details.
Powered by

Sidelines
Previous Post Fallout 3: Progress and Trophy