Softcore English Language Learning Aid – Not Suitable for Kids
CERO ratings, these are the Japanese equivalent of the US ESRB ratings that you can find on video games. Games are rated using letters, A for all ages, B for 12 and up, C for 15 and up, D for 17 and up, and Z, for an audience aged 18 and above only (Wikipedia article here).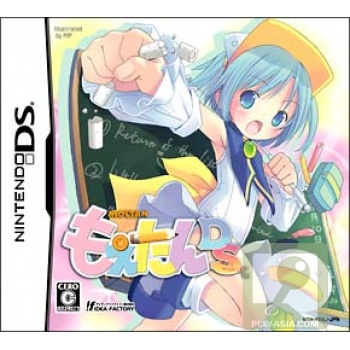 Having gone through the list, I was pretty curious to see a game which looks like an English language learning aid for Japanese speakers, having a CERO C rating. Titled Moetan DS, it's based on the language aid books published by Sansaibooks and the anime of the same name.
Not For Kids
Why the CERO C rating? Lets just say the game has its fair share of pantsu and other stuff that make my copy of Kanji Sonomama Rakubiki Jiten as sterile as industrial bleach.
You Can't Read This
The game is not import-friendly as some parts of the game require you to choose the Japanese equivalent to an English phrase. You'll be hard-pressed to do anything after the first set of questions but in any case, the game comes with a note-worthy dictionary mode.
This mode gives you everything from how to pronounce a particular English word (with voiceovers!) and also examples of use. Pretty cool eh?
Softcore and Hardcore at the Same Time
When compared to English of the Dead (another English language learning game set in the House of the Dead series) Moetan seems to be the more comprehensive game and is way harder to play. The lack of hints (intentional or otherwise) makes the game quite a challenge.
You can get Moetan DS and DVDs of the anime at Play-Asia. Click here for the entire list.
Powered by

Sidelines
Previous Post Extended Mario Addiction and Macross (PSP) Trailer!
Next Post Adidas King of the Road 2008: Much Nicer Than Last Year!