Wacky Races: Crash & Dash – A Video Game Review
While Mario Kart DS delivered a racing experience rivalling its console counterparts and Speed Racer: The Video Game brought about movie visuals to life on the DS, there's one racing game that would really give you a "whacked" out experience, just like what its title implies.
Those of you who have played Warioware: Twisted or Warioware: Touched! would know how crazy those mini games can get, and what happens when you take those mini games and apply them in a racing game? You'll get Wacky Races: Crash & Dash.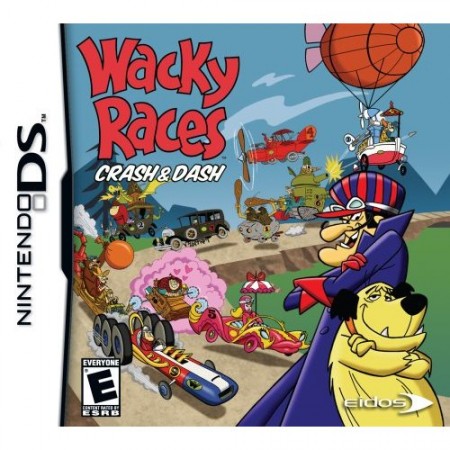 Touching is Good
Now I've played Wacky Races before, the GameBoy Color version on the DS via emulation, and it wasn't really brilliant, but Wacky Races: Crash & Dash is a totally different kettle of fish. First thing first, the game sports the stylus and touchscreen as the means to control the car during a race, and not the D-Pad. The car will move based on where you touch ahead of the car!
Depending on whether you are a right or left hander, the D-Pad and the XYAB buttons perform the same function of activating power ups. The game features a myriad of characters and vehicles, taken from the Wacky Races cartoon series, and each vehicle has its own set of "Wacky Powers", e.g. flight, firing what appears to be cannon balls at opponents, hopping(!), etc, etc.
I personally prefer to use Peter Perfect as his vehicle, The Turbo Terrific is geared for speed (but at the same time, a handful to control). The Ant Hill Mob is not bad too, with really funny animations when their Wacky Power of Getaway Power is activated.
Muttleyyyyy!!!!
Each race is divided into smaller segments. During each segment, you get collect and activate power-ups (Wacky Powers), try to get ahead of your opponents and avoid getting damaged. Some power ups allow you to target opponents by simply tapping the opponent with your stylus. Remember the thing I said about mini games earlier one? Well get damaged too much and you'll be forced to play a mini-game to "re-assemble" your Wacky Racer vehicle.
That's not the last you'll see of mini games as each segment ends with a small cut scene featuring Dick Dastardly and Mutley and one of their nefarious traps. You will find yourself using the stylus to dodge boulders, draw lines to form structures, trace a path, and clear the way of bombs, amongst other things.
This is a pretty cool concept and the whacked out feeling is ever present even at the end of the race where you'll have to blow into the microphone (or rub vigorously with your stylus on the touch screen) to enable a mad dash to the finish line!
Misc
Gameplay is divided into several modes, the first one being the Wacky Rally, where you compete in a set of races in order to unlock the next set of races. There's also a Single Race mode and the Trap Challenge mode. The Trap Chllenge challenges the player to complete as many trap mini-games as possible.
The visuals for the game is presented beautifully with cel-shaded art the order of the day. What's more deserving of praise is the audio. I believe this is the first time I'm hearing running commentary in a racing game on the Nintendo DS, or even any racing game on any platform for that matter; it's like watching the cartoon again.
Summary
Overall, Wacky Races: Crash & Dash is definitely a keeper. The concept, design and the execution of the game's design all indicate that some thought and a lot of effort have been put in to make it a great game.
Come to think of it, I noticed that Eidos has been getting its hands dirty on Warner Bros IP for games on the Nintendo DS. Wacky Races does justice to the source material and more than redeems Eidos over the horrible game known as Looney Tunes: Cartoon Conductor.
Wacky Races: Crash & Dash is available on sale from the 23rd of June on Play-Asia. Click here for further details. Can't wait, or you are living in America? Get the game at Amazon (click here for details)
Powered by

Sidelines
Previous Post Smashing Good Time With The Incredible Hulk