Trading Bullets for Grammar: English of the Dead NDS Review
I don't remember any other game that is as campy game as Sega's Zombie Shiki – Eigo Ryoku Sosei Jutsu: English of the Dead.
The fact that it is a Japanese game aimed at improving the English language proficiency of its players while set in the House of the Dead premise should hint as much at its campy content.
If you ever played House of the Dead, you would certainly be at home with English of the Dead. Think of it this way, instead of shooting bullets in what basically is a rail shooter, you write with the stylus individual letters, words and sentences, and even construct whole sentences from jumbled-up words.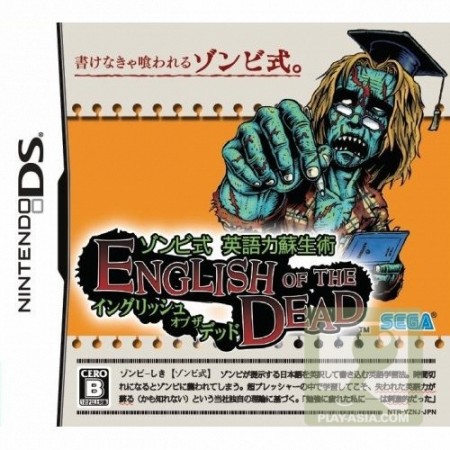 Each successful action spells out (pun intended) as a hit, like a bullet hit in the arcade game.
Spell: LOL
Aside from the quirky letters-as-bullets mechanic (which technically makes the pen/stylus mightier then the sword 🙂 ), English of the Dead is filled with many tongue-in-cheek moments.
The English voice-acting sounds deliberately third rate, and you'll soon be echoing the main character's "My God!" statement in relation to the voice acting. Screens depicting zombies in cartoonish and funny moments can be found in between levels and the game has the cheek to ask you to take a break after a particularly tedious level.
The training mode is filled with funny examples (deliberate or otherwise) of English-language conversations. A particular conversation found goes about like this: "Where are you from?", "I'm from Nebula N78". Trust the Japanese to actually come up with these inane examples to fit the style of this campy game.
Arcade, Meet DS
I've not complains graphics-wise. The game does bring about the arcade House of the Dead feel, despite being dumb-downed for the dual screens of the Nintendo DS.
Not Lost in Translation
Having English as my mother tongue is probably the reason why I can finish the game in under 5 hours. However, some parts of the game require a bit of guess work. The sequences whereby you go up against a hydra boss are where you have to match Japanese phrases with their English equivalent. Quite tricky but not unsurmountable.
Despite the short-play time, higher difficulty levels provide for some extended game play. There's also a boss fight mode should you choose to visit the main antagonists for each chapter.
Where to Buy?
English of the Dead probably deserves a place in your games collection simply because you'll never see anything like it released State side. This Japanese import is available at Play-Asia, click here for further details.
Powered by

Sidelines
Previous Post Battlefield Shenanigans on the NDS – A Review of Stratego: Next Edition
Next Post July's Nintendo DS Offerings