Chronicles of Narnia: Prince Caspian for the Nintendo DS Review
I remember not too long ago when I reviewed the Nintendo DS version of the movie tie-in The Golden Compass. It was, in a word, horrible. I didn't know (at that time) of any other game that would be so boring.
And unlike its beautifully realized big-screen counterpart, the game was downright ugly.
Summer Camp
The season for mega movie blockbusters has returned this year, and with it The Chronicles of Narnia: Prince Caspian. Like any other big budgeted movie before it, Prince Caspian has a multi-platform presence in video games, and naturally, Nine Over Ten 9/10 is here to review the Nintendo DS version.
Movie tie-ins tend to fare poorly coming over to video games (and vice versa as well), but this year's Speed Racer DS (click here to read my review on Speed Racer DS) proved to be a revelation that when done properly, movie tie-ins can be right up there with the best.
An RPG?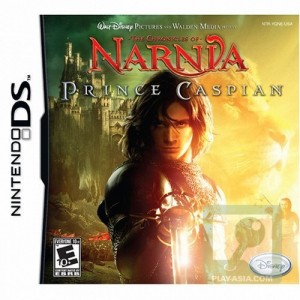 Prince Caspian definitely belongs to the Speed Racer DS camp, but not without its own set of niggles. The game presents itself in a 3D isometric view, which kind of reminds me of Babo Violent. Anyways, it is a Role Playing Game (cue collective gasp) and the game starts of with you playing as the titular Prince, being trained in the art of sword play, before using the newly acquired combat skills to defeat his trainers and escape the castle he is living in to get away from an assassination plot.
This kind of reminds me of when Commander Cody was given the task to execute Order Sixty-Six on Obi-wan Kenobi in Revenge of the Sith. Quoting the poor commander on the irony of the situation: "Would it have been too much to ask for the order to have come through before I gave him back the bloody lightsaber.…?"
Story Telling
Both fans of the book and those who have not read it yet would appreciate the cutscenes, told in book form. Text-allergic gamers can rest easy as there are some pretty pictures to look at and each cutscene isn't that long. Not long before you get to start hacking and slashing anyways.
Not Just For Cutting
Act 2 of the game would see the introduction of the Pensive children, on their return to Narnia, and the party system. Taking a step towards FF3, your party can consist of 3 active members at any time.
You would also be introduced to combat methods such as using a heavy sword, bow and arrow, as well as the prerequisite to casting spells. Harry Potter would have loved the last one, it was a mini-game to connect the dots.
As you can probably tell, such combat methods are pretty touch-screen intensive and each of them will trigger a mini-game of sorts. Take sword play (Caspian and Edmund) for instance. You'll be tracing strokes on the touch screen and how fast and accurate you do it will determine how much damage dwelt to your opponent.
Susan's bow and arrow will require you to pull the bow string with the stylus and direct the arrow at moving targets before releasing the string.
The Best Defence is a Good CONSTANT Offense
Actual combat in Prince Caspian is really frantic. Even though it looks like a set up from Final Fantasy III, I don't know whether to call it real-time or turn-based. Reason being there's a fatigue meter that prevents your party members from immediately reacting after executing an attack. You'll need to quickly select another party member to keep the pressure on the enemy in order to prevent it from attacking you.
There's a good reason for this as the AI deals quite alot of damage per hit, and you will not like to get bashed more than a couple of times.
On With The Other Stuff
Aside from on-your-toes combat, Prince Caspian boast pretty good graphics, with nice pre-rendered backgrounds and a rousing orchestra soundtrack.
While Prince Caspian's rather deep RPG approach and intuitive touch-screen based gameplay coupled with marvelous graphics are not uncommon in first-party titles such as Final Fantasy III, it is heartening to see third party developers bringing their A-game to the Nintendo DS platform.
One More Thing
One last intriguing aspect of Prince Caspian is not the game itself, but rather the DGamer service it comes with. From what I can garner, DGamer is a social network service, part of Disney Xtreme Digital, which sadly, is not available for consumers outside the U.S of A.
Anyways, the DGamer service in Prince Caspian allows you to go online and chat with people! If you do not have a DGamer account, you can log-in as a guest and peruse the chatrooms, which provides a truncated user experience since guests are limited to pre-typed phrases or MSN-like Winks.
I took a video of it, just for kicks:
Where to Buy:
Prince Caspian is available for pre-order at Play-Asia, and scheduled to be in-stock this month. Click here for further details.
Powered by

Sidelines
Previous Post Macross Frontier Soundtrack
Next Post Mario Kart DS WFC Race Report