Zombies, But No Brad Pitt: World War Z (iOS) Game Review
World War Z. I saw several copies of the book at a bookstore in Kota Kinabalu a couple of years back. I didn't pick it up even though interest was high in the title, considering that a movie was being made with Brad Pitt headlining it. The movie's out now (and I heard it's pretty decent), and like most blockbusters these days, there is a video game tie-in with the movie.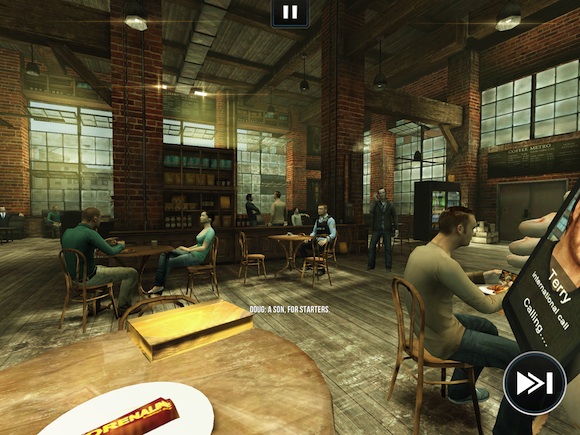 The game shares the same title as the movie and was developed by Phosphor Games using Unreal Engine for iOS devices. It starts off impressively, with a plane full of zombies crashing into the bar where your character is having a drink in. Normally this would be the premise of an all-out-first-person-shooter but the game eschews traditional virtual thumbsticks for movement, and instead borrows from the adventure genre where you tap on the screen in order for your character (the generically named Doug, or was it Rob…blame the late night studying for my temporary lack-of-recall) to move to that location.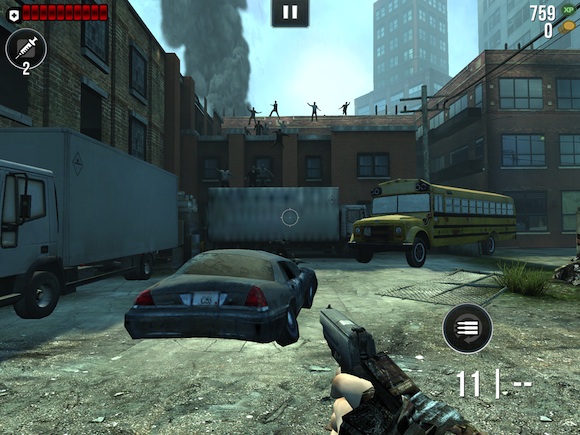 As for shooting the undead (the game's lore, available through reading emails off PCs, labels the zombies as being afflicted by some strain of rabies), World War Z borrows from games such as House of the Dead, in which you just need to move the target cursor to the particular zombie and Doug automatically starts shooting (kinda like point a gun). I can't recall why Doug comes packing at the start of the game, but what I do know is that a. unlike Resident Evil, there's plenty of ammo lying around waiting to be picked up (always useful in a zombie apocalypse), and b. Doug has a 24-7 supply store on call!
Since this is a full-priced game on the iOS App Store, there's not so much of IAP shenanigans (you can still buy gold though), and you can earn XP used in the aforementioned supply store through various means in the game, including checking out dead bodies (yuck!) and….reading books, among other things. Weapons can be purchased and upgraded through the store so it's good that you spend some time in between zombie waves to hunt down them books (be sure to look into trash cans and car boots).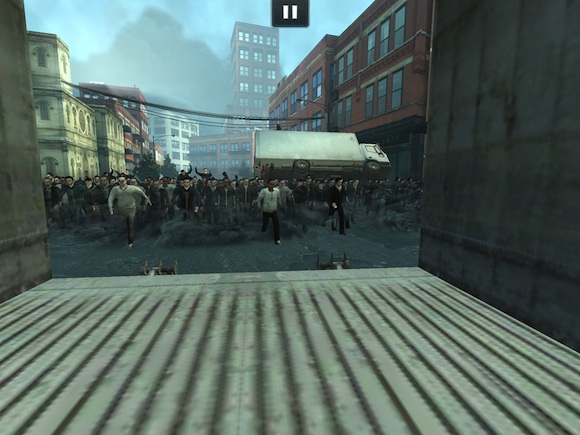 If you've seen the trailer to World War Z, you would have noticed that the zombies are swarm like and capable of forming literally, a tsunami wave of undead bodies reaching up to a helicopter. In the game, you get to see a huge wave of zombies crashing against shop lots in pursuit of a runaway truck with your character at the back. Watching this unfold on the iPad, I can't help but think that a decade ago, PCs were struggling to put that many bodies (virtually warm or otherwise) on screen via in-game engines. Having said that, the game looks awesome.
World War Z is a fun romp on the iPad, crazy cut-scenes and while you may be faced with hordes of zombies, the controls (and the abundance of ammo and weaponry, with no pay-to-win IAP bullshit) should get you out smelling like rotten roses. Nineoverten.com rates World War Z at a 4.5 out of 5. HIGHLY RECOMMENDED, and you don't need to watch the movie to play the game.
The game is available on the iTunes App Store for USD 0.99 (Father's Day Special price, usually it's USD 3.99): https://itunes.apple.com/us/app/world-war-z/id635750965?mt=8. A review code was provided to Nineoverten.com for the purpose of this review.
Powered by

Sidelines
Previous Post Avengers Alliance (iOS) Game Review – S.H.I.E.L.D Will Make An Agent Out of You Yet!
Next Post This Week in Comics – Pacific Rim: Tales From Year Zero Review