Guinness Storehouse Announces Launch of New Smartphone App (iOS & Android)
If I'm on a tour of Dublin, one of the items on my itinerary would be a visit to the Guinness Storehouse. Having been a fan of Guinness Stout for years (even as a kid, yeah, I kinda started early), it would be pretty awesome to take a tour of that place. Having said that, air flight tickets to Dublin aren't exactly cheap. Anyways, there's a new official Guinness Storehouse app that serves as a virtual companion for visitors to that "hallowed" ground.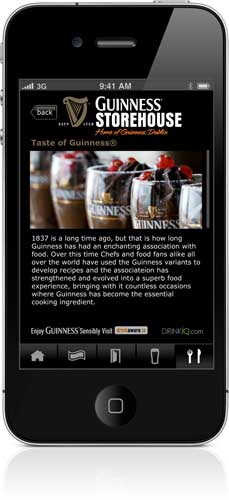 Once downloaded onto their phone, users can map their journey to the Storehouse using Google maps, purchase tickets online and check opening times. The Guinness Storehouse® App offers fully digitised multi-lingual tours of the seven storey building in English, German, Spanish, Italian and French.
These tours feature unique and interactive Hotspots, which upon selection, showcase specific points of interest on each floor through the use of photos, video and descriptions. These hotspots include the ingredients exhibition, Guinness® advertising and the popular Cooperage which showcases the ancient craft of barrel making.
Another unique function on the App is the photo gallery page which allows fans to upload images from their visit with ease and view a gallery of 25,000 visitor photos since 2008. Amateur photographers will be able to enter the monthly Guinness Storehouse® Photo Competition on Facebook or Twitter via the App, allowing interaction and engagement amongst fans and friends.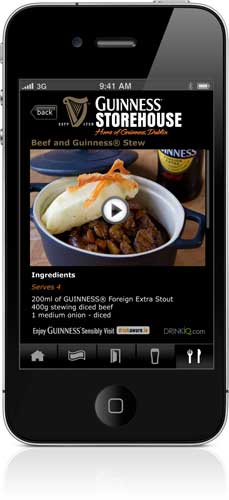 For foodies, Guinness Storehouse® App users will be able to watch the Storehouse head chef Justin O'Connor give video cooking demonstrations or try out some Guinness® recipes such as Guinness® Brown Bread and Guinness® and Beef Stew from FIVE, the newly launched Guinness® and Food Experience, which will be available for download.
The exciting mobile App was developed by Guinness Storehouse® in partnership with O2 and is available to download for all Smartphones. iPhone users need to simply search "Guinness Storehouse" on the iTunes App Store and Android users can search the same terms "Guinness Storehouse" in the Android Market.
Powered by

Sidelines
Previous Post Nintendo 3DS Camera Fun
Next Post Breakout: Boost (iPhone) Get Paid Version with 100 New Levels