Match-3 For The Hardcore: Panic Block II (iPhone) Game Review
First review of 2012 and it's for a match-3 game for the iPhone, but it's no ordinary one. If anyone is crazy enough to come up with a really difficult match-3 game, you can count on the folks from Bedtime Creations to come up with one. Their latest game, Panic Block II will have novices lasting mere seconds in the game's Classic mode. Basically, players can only form matches in the middle row as blocks are constantly added to the rows of colourful blocks.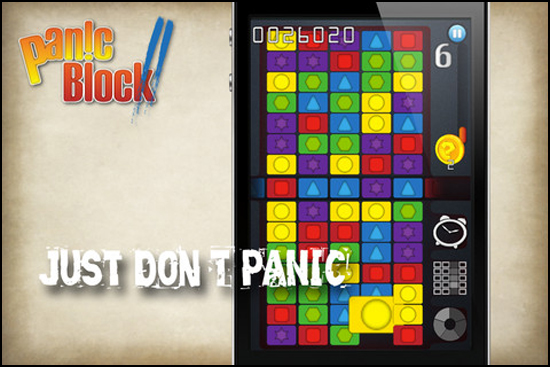 The level progression is kinda like Tetris, and the rate in which the blocks are added increases with each level. Players will need to possess nimble fingers just to manipulate the middle row in order that they do not get trapped by columns that become too tall for their own good. Matching a row of 5 blocks of the same colour will result in the player rewarded with coins, these coins can be used to purchase power-ups in-game.
The game's Action mode is a little more kinder to newbs, since it's just a race against time and the number of blocks that are added is based on the number of blocks that get destroyed by the player. Unlike what the title seems to suggest, the way to gain more points in either game mode in Panic Block II would be to actually NOT panic. Having a cool head (and an alert one at that), will certainly allow you to go far.
Unlike most match-3 games, Panic Block II is for the hardcore (just take the game for a spin and then check out the Game Center leaderboards and you'll get an idea how tough this game can be), and it's probably God-send for some :). Nine Over Ten 9/10 rates Panic Block II at a 4.5 out of 5….Excellent Stuff! The game is actually available for free on the iTunes App Store, so check it out over here: https://itunes.apple.com/us/app/panic-block-ii/id472155211?ls=1&mt=8
Nine Over Ten 9/10 was provided with a review code for the purpose of this review.
Powered by

Sidelines
Previous Post Happy New Year!