OrangePixel Proves Its 2D Mettle with Stardash (iPhone) Game Review
A game such as Stardash for the iPhone represents a confluence of ideas and inspirations that make the game such an interesting one to pick up and play. First up, players would definitely notice the green-ish (apparently I'm a bit colour blind, so don't blame me for getting the shade wrong) graphics/art style which is a throwback to the Gameboy-era. Retro-heads would be delighted to know that the controls and even the soundtrack/sound effects match the visuals.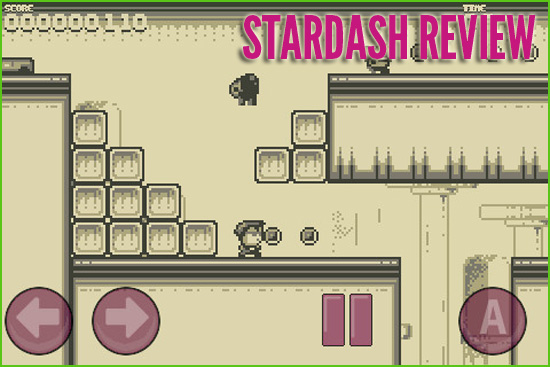 The game allows for little modern niceties, except for perhaps, Game Center/OpenFeint leaderboards support, and 4o levels in which players are rated by either collecting all the coins in the level, or running the level within the time limit. I tend to approach Star Dash as a speed run but players be warned, this game is no pushover. There'll be plenty of trial and error before you hit your stride in a level.
Stardash is brought to us by the folks (OrangePixel) that gave us Meganoid (which happens to be a favourite of ours), and these guys don't disappoint. I'm platforming games-challenged (meaning I suck at this sort of games), and yet I had an enjoyable time playing the game, with its difficulty and all. I think that 2D retro-themed games seem to be OrangePixel's forte and Nine Over Ten 9/10 is not hesitant to rate Stardash at a 4.5 out of 5.
The game is available on the iTunes App Store for USD 1.99. Check it out over here: https://itunes.apple.com/us/app/stardash/id465071724?mt=8. A review code was provided to Nine Over Ten 9/10 for the purpose of this review.
Powered by

Sidelines
Previous Post Adidas King of the Road Malaysia 2011 (Race Report)
Next Post We're Going To Hong Kong & The Apps We Are Bringing