Stack King (iOS) Game Review: Appy's Latest Is A HIT!
The guys over at Appy LLC know something about building casual mobile games, and there's no better example than their first release for iOS devices called Stack King. As you probably can guess the title, Stack King involves stacking stuff up (or down), and it's more fun and addictive then it sounds.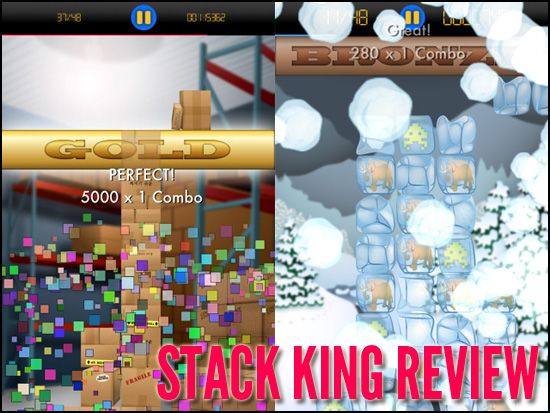 The controls are really simple, just tap once to line up the stacks. If you miss, the stacks become smaller and smaller, making it harder to line 'em up. Some of these stacks move devilishly fast, and you'll need to have a good sense of timing to line 'em up. Players are judged by how high their stacks are with Bronze, Silver, Gold and even Platinum medals being awarded for their efforts.
Getting Platinum allows players to also experience the "King Mode" for a particular level. Aside from the crazy addictiveness, what I really love about the game are the different environments in which the stacking takes place. The first level has players in a warehouse stacking boxes. Subsequent levels will have you stacking circus acrobats and even the space invaders from a certain retro arcade game.
Stack King also comes with multiplayer support via Game Center, with two players battling it out with each other to have the highest stack. For such as relatively simple premise, Appy has hit casual gaming perfection with Stack King. Nine Over Ten 9/10 rates Stack King at a 5 out of 5. HIGHLY RECOMMENDED
Stack King is available on the iTunes App Store for just USD 0.99: https://itunes.apple.com/us/app/stack-king/id439558477?mt=8. A review code was provided to Nine Over Ten 9/10 for the purpose of this review.
Powered by

Sidelines
Previous Post Unreal Engine-Based Flashbike Arena (iOS) Preview: Ho-hum?
Next Post Stuff That I Listen To..