Jumping Frenzy (iPhone) Game Review
Gameville Studio's Jumping Frenzy is a fun trampoline game for the iPhone. Set during an alien invasion, the player is tasked with  moving a trampoline manned by intrepid heroes Chidi and Chiki as they save people, animals and furniture coming out of burning buildings.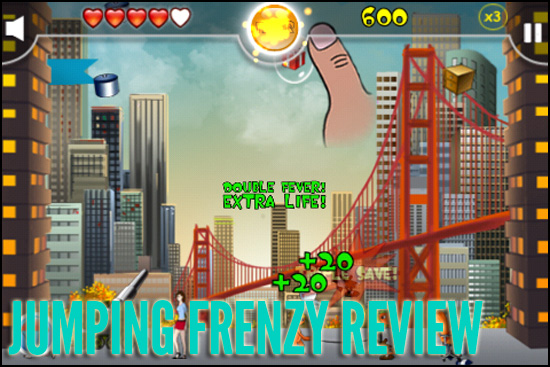 Miss a person or an animal and the two heroes lose a life, but there are certain exceptions to the rule. Players are not supposed to catch tigers or elephants as catching them will result in certain lost of life (lolz) to Chidi and Chiki. The gameplay is frantic with plenty of things moving about on-screen and players can get extra points by catching more than one thing at a time.
The game features colourful 2D graphics and it's a good thing that the game handles all the moving elements with aplomb. Aside from catching all these falling stuff (and avoiding certain items), there are power-ups that can be shot down for the benefit of Chidi and Chiki. One of the power-ups actually grant them invulnerability, perfect for dealing with tigers…and elephants.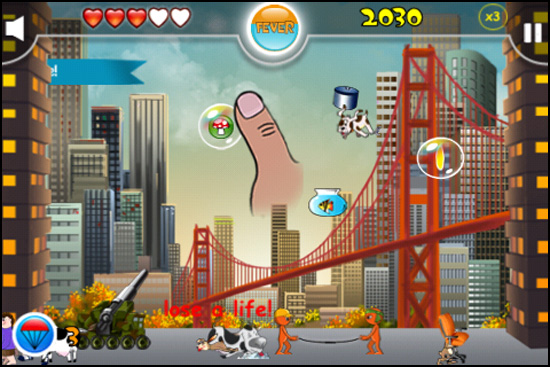 The game has 5 locations, four of which to unlock. Gameplay is practically limitless, just as long as you don't miss catching animal and take advantage of the extra-life power-ups, you can go on, and on, and on. Achievements are provided for via Open Feint, and if there's anything I would like to see added to the game, it would be Game Center.
Nine Over Ten 9/10 rates Jumping Frenzy at a 4 out of 5. HIGHLY RECOMMENDED. The game is available on the iTunes App Store for  just USD 0.99, check it out over here: https://itunes.apple.com/us/app/jumping-frenzy/id441906891?mt=8. A review code was provided to Nine Over Ten 9/10 for the purpose of this review.
Powered by

Sidelines
Previous Post Oceanhouse Media/HarperCollins Children's Books Announce New Agreement to Bring Additional Berenstain Bears Titles to the App Market