Push-Cars (iPhone) Review: Cute Little Mind-Bending Puzzle Game
When was the last time you played a game that looked cute but underneath that layer of "cuteness" lay a game that teased your frontal lobes like no other. Well, I can tell you exactly when I encountered a game that fit that description. Last night. The game in question is Push-Cars from indie developers Ivanovich Games.

It's a puzzle game featuring what else, but, cars and each levels look like they are inspired by city maps. The objective of the game is very simple. The nice, eco-friendly cars are to be led out of the city unscathed, but the oil-guzzlers (V8s and sports cars come to mind) must crashed. Even environmental friendly themes come with some underlying layer of tough love these days huh.
The cars are stationary at the beginning of each level and players tap on individual cars to change the direction in which they are pointing to (and will be driving towards) before tapping on a button to launch all of the cars. It's like planning for an intricate dance movement where you'll have no control once the action starts. LOL.
The game has more than 250 levels spread across different locales in the United States, and that's A LOT of gameplay judging even by casual games standards.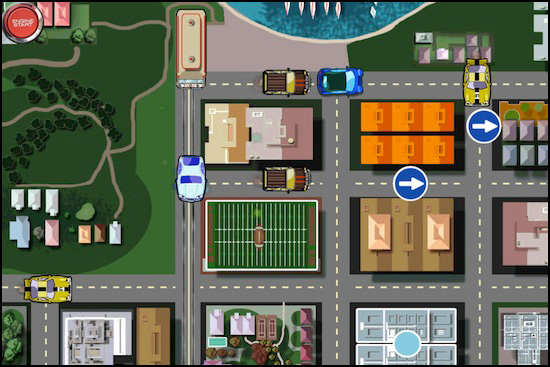 The developers are pretty smart in building a hints system that is finite and requires an in-app purchase to top-up. This pretty looking 2D-game is really tough and I have no doubt that players (especially those at wit's end) will spend more than a pretty penny on the game. Nine Over Ten 9/10 rates Push-Cars at a 4 out of 5, as without a doubt, this game has plenty to offer for puzzle fans. HIGHLY RECOMMENDED.
The game is currently available for free on the iTunes App Store. Check it out over here: https://itunes.apple.com/us/app/push-cars/id423801002?mt=8.
Powered by

Sidelines
Previous Post App Of The Week: Hungarian Desserts (iOS)