Drop The Chicken (iPhone) New Levels Released With Super Cool Easter Egg
Nine Over Ten 9/10 reviewed Sharp Creative Agency's Drop The Chicken for iOS devices back in April 2011 (read it here). Ever since then the game has received one update and now, a SECOND major update has been released, bringing with it the inclusion of a 5th world, "The Factory". According to the press release, this new set of levels is by far the trickiest yet. To find out more, check out the press release below: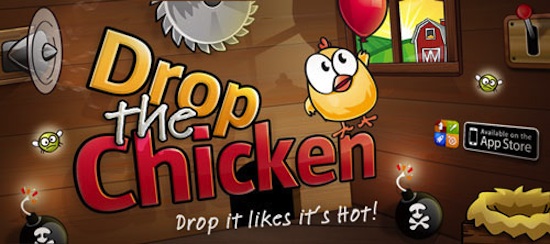 Drop The Chicken New Levels Released
Drop The Chicken has just received its second major update with the inclusion of a 5th world, 'The Factory". The Factory is by far the trickiest stage. The chick magnets, a new awesome tool, are mega strong and used together will all the existing tools and multiples of themselves provide a new dimension to the game play and a new dynamic feel to the levels.
The developers also added some new obstacles, the rivets which break up the game screen and mix up the solutions in a trickier way to previous levels. They are really small but used in large numbers provide an interesting twist.
This latest update also adds some more animations and sounds in game play to make it a bit more interesting, more Game Center achievements and vast improvements to the physics in the game, making it a lot more intuitive to play. One of the most challenging games on the app store just got a little more awesome! The new update is now available for download on the app store.
Easter Egg Revealed
The first major easter egg to be revealed is the Replay Theatre. This can be found hidden on the credits screen by clicking the mouse hole at the top of the screen, and it will let you view your best attempts at each level. To get out of the replay theatre simply go back to the home screen.
Check out the game on the iTunes App Store over here: https://itunes.apple.com/us/app/drop-the-chicken/id423722522?mt=8
Powered by

Sidelines
Previous Post This Is The Season To Buy Stuff…Especially Games
Next Post Enter Fight Club: The King of Fighters-i 002 Hands-On