Raptor Call of the Shadows 2010 Edition Now Available on Mac App Store
Oh my goodness, one of the best shmups that I used to play a lot on the PC is has now made it's way to the Mac App Store courtesy of DotEmu. Raptor Call of the Shadows 2010  has been brought to life on the Mac OS X at a launch price of USD 2.99. Check out the following press release for screens and a trailer!
Raptor Call of the Shadows 2010 Edition now available on Mac App Store
Paris, France – January 20, 2011 – DotEmu, developer and publisher specialized in bringing retro games back to life, is proud to announce a first game for the Mac App Store with an explosive title: Raptor Call of the Shadows. Three other games will be following very soon: Nicky Boom, Nicky Boom 2 and Krypton Egg.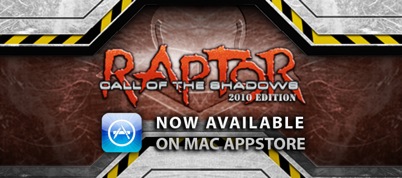 As a mercenary in the not-so-distant future, flying the super-advanced Raptor space fighter, you'll be sent on interplanetary missions to knock out your MegaCorp's top competitors. Battle against hordes of relentless enemies. Spend the bounties claimed for their demise to expand your devastating arsenal!
One of the best 2D Shoot'em'up ever made is back on your Mac !
According to Gametrailers.com, one of the best 2D shooters ever made.
An impressive arsenal of upgradeable, hard-core, deadly weapons!
Earn more cash to improve your ship's technology!
Fast-paced action and a pulse-pounding soundtrack to pump some adrenaline into your veins!
The 2010 Edition features improved graphics and native support for higher resolutions (640×400, 960×600 and 1280×800). Standard, oldschool graphics are also available.
Raptor Call Of The Shadows now available on Mac AppStore at a launch price of USD 2.99, check it out over here: https://itunes.apple.com/us/app/raptor-call-of-the-shadows/id406972401?mt=12
Powered by

Sidelines
Previous Post Good News from Two iOS App Publishers: Tapulous and G5 Entertainment
Next Post Raynium (iPhone) Game Review: Leave It On The App Store's Shelf