Crap of Defense Review (iPhone)
Back in World War II, the Soviets must have been pretty pissed (and freaked out) when the German army managed to push to be within 30 kilometres of Moscow. Fortunately for the rest of the free world, the Germans over extended themselves and the Soviets took the opportunity to pwn (for lack of a better word) and took the fight all the way to Berlin In Command and Conquer: Red Alert, the Red Army was instead portrayed primarily as the antagonists. Cheap troops and swarm tactics were the hallmark of this particular faction of the game.
Unfortunately mini-games were practically unheard of back in the 90s, otherwise, one of the funniest iPhone games that I've played this month would have been a perfect fit.
Crap of Defense for the iPhone/iPod touch is a tower defense game like no other, and this is on a platform where games of this genre have been spawning like mushrooms. In this game, it's just you (and one cannon, or tank, or howitzer) against a horde of incoming troops that never seem to stop, kinda like the Red Army in Red Alert. Basically you take aim, fire and hope that the blast takes out as many troops as you can and hope that not too many troops escape.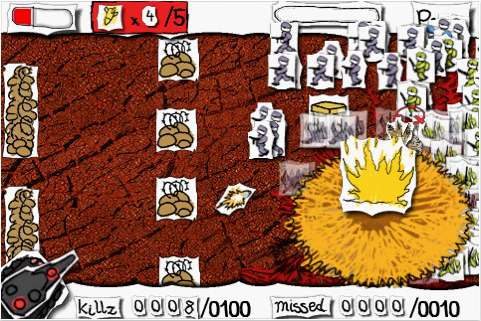 The limited number of ammo will force you to choose your shots wisely, you'll find yourself waiting for large groups and aiming just before them to take out large chunks.
Helping you is a bunch of power-ups that are obtained from blowing up troops. These include mines, speed-ups that decrease your cannon's re-load time, freeze bombs to slow down large groups of enemies, air strikes…you get the idea. The challenge in every level would be to keep the number of escapees from your bombardment low, which is easier said (or written) than done. This is because each level's enemy horde are different, and some require more than one cannon blast to take them out.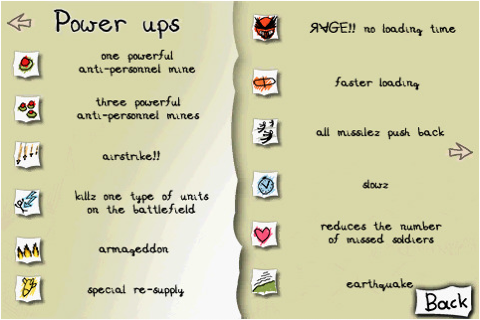 I can play Crap of Defense all afternoon long and despite the tongue-in-cheek reference to itself as "the worst game ever", the game is really fun to play and the doodle art-work suits the game. The game has an all new campaign called Winter Assault bundled in with their latest update to 2.o, bringing in more replay value for a game that costs shy of 2 dollars.
To check it out over at the App Store, click here. For those who are net-speak averse, you might need a translator for the game. I suggest UrbanDictionary.com to help you along your way.
Powered by

Sidelines
Previous Post New Zombies Ala Mode (iPhone) Screenshots Released
Next Post Mountain Climbing