Wait Just One More Frigging Turn!
Civilization V is addictive. Brave New World just makes it even more addictive. I've gotten The Humble Sid Meier Bundle the other day and paid more than average in order to get Brave New World, the Civ 5 expansion pack for a song (despite paying more than I've ever had before for a Humble Bundle). Those of you who have been playing this expansion would know what a game-changer the expansion can be, but for those who don't know, Brave New World adds in additional civilizations, a new way to generate ALOT of gold with the introduction of Trade Routes, ideologies, and a particular favourite of mine, tourism.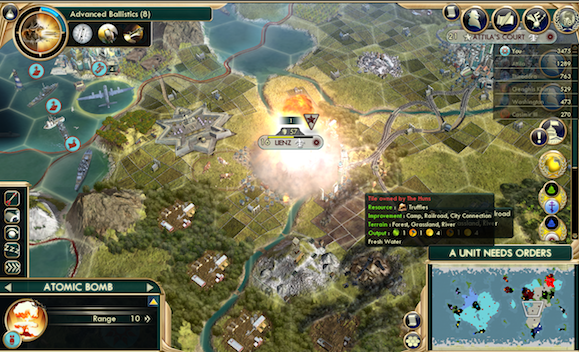 The expansion doesn't change the fact that Gandhi is a bit of a jerk and Washington and Attila are really…really…loud whiners who would denounce you every single turn (if they were able to). The game that I'm playing now features 8 civilizations across 2 major continents. Playing as one of the new civs, Indonesia, things have gotten a bit cramped on my end of the planet but upon discovering the other continent (the proverbial "brave new world), I found it no better with constantly bickering countries which include the Polish, the Americans and the Huns.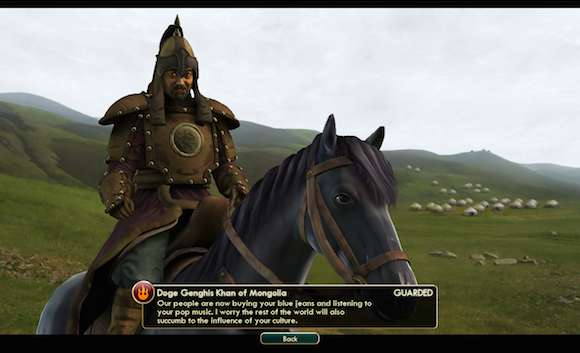 A few liberated city states later, I decided to be a little heavy handed in instilling some good-old-fashion fear of God into my virtual opponents with simultaneous nukes from my aircraft carriers. Needless to say they were quiet after that. I'm still playing the game wondering whether I should take over Singapore (an ally) and Malacca (a nuisance city state which has nothing better to do than bomb my passing-by ships) to create my own vision of Indonesia Raya (Greater Indonesia)? I'm on track to a cultural victory though, since almost everybody is complaining about buying my blue jeans.
Let me try to get this game out of the way and it's back to reviews. Promise.
Powered by

Sidelines
Previous Post Hit iOS Game Swarm of the Dead Introduces Shaolin Kungfu Monks in New Update
Next Post Saturday Morning PC Gaming News – BeatBlasters III Now on Steam, Strife Goes Into Free Trial Weekend