ByteSized Studios Releases Atomic Fusion: Particle Collider Filled With Geeky Arcade Awesomeness (iOS & Android)
Built for the competitive physicist! That's an interesting tagline for a game and it happens to be the one for ByteSized Studios' latest iOS/Android title, Atomic Fusion: Particle Collider. Players will have their hands full exploring the periodic table through frantic arcade-style gameplay. The game was a finalist in the 2013 Captivate Conference and now sees the light of day on both the iTunes App Store and Google Play, for FREE!. Check out the press release below for more details: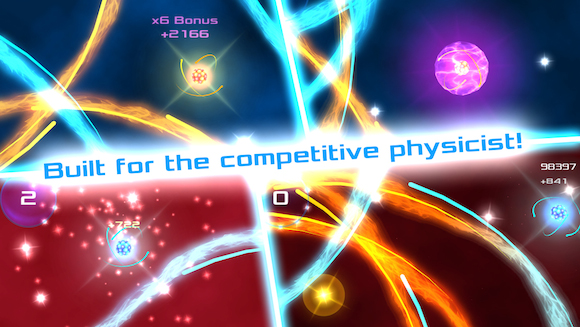 Developed by Austin native ByteSized Studios, Atomic Fusion: Particle Collider has players (a.k.a. Physicists) explore all the elements in the Periodic Table though frantic arcade gameplay. With a quick flick, players direct their atoms toward hot plasma—gaining (or losing) energy in the process. The goal is to amass enough energy to attain fusion and level up to the next exciting element.
A finalist in the 2013 Captivate Conference, Atomic Fusion introduces players to the mysteries of Quantum Physics with stunning, fluid graphics and a thumping trance music soundtrack. Swiping with either thumb controls the atom; a quick tap with the opposite hand switches between matter (blue) and antimatter (orange). Gathering atomic energy through matching colors allows Physicists to fuse a new element. However, mixing matter with antimatter will quickly deplete the atom of energy.
Power-ups including Bullet Time (slow motion) and Quantum Barrier (shield) will materialize from time to time—and can be activated on contact. Power-ups remain active for a limited number of seconds – hopefully just enough time to prevent energy loss! As a last resort, it's possible to charge up electrons and then release them in a life-saving explosion that eliminates all plasma waves from the screen.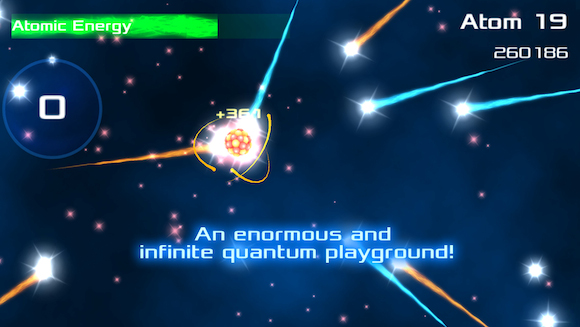 Getting through the Periodic Table is daunting, sure—but discovering all-new elements is where the real challenge lies. Soon, the first Physicist to do so will actually be able to name their discovery in-game for all to see. Now that's something you don't see every day in mobile gaming 🙂
"The invisible world of Quantum Physics doesn't always have to be a black-and-white illustration," says Stephen Varga, chief operating officer and co-founder of ByteSized Studios. "With Atomic Fusion: Particle Collider, we wanted to show that particles and electrons are not abstract concepts; they're real just like you and me—and they have a beauty of their own. Atomic Fusion will shatter your expectations of atoms and plasma waves in the first 10 seconds of gameplay."
Atomic Fusion: Particle Collider can be played for free up until Element 10, Neon. After that, ByteSized Studios hopes that players won't think twice about unlocking the rest of the 118 elements for a very reasonable $1.99. Players on iOS devices can download the game from the App Store: https://itunes.apple.com/us/app/atomic-fusion-particle-collider/id731547298?mt=8 and Android gamers can have it from Google Play: https://play.google.com/store/apps/details?id=com.bytesized.fusion
Powered by

Sidelines
Previous Post RoboCop (iOS) Game Review: In-App Purchases Are A Prime Directive
Next Post Table Top Racing Takes Google Play Store By Storm For FREE!