Ridge Racer Slipstream (iOS) Game Review
33 minutes and 128 kilometres into Ridge Racer Slipstream and I thought, wow, this big-ticket title from Namco Bandai deserves a review on Nineoverten.com. The game brings about the drift-happy gameplay commonly seen on consoles such as the PS3 and PSP onto the small screen to great effect. While there's the arcade and online time attack, the meat and potatoes of the game rests in the career mode which is tied to a player's Facebook account.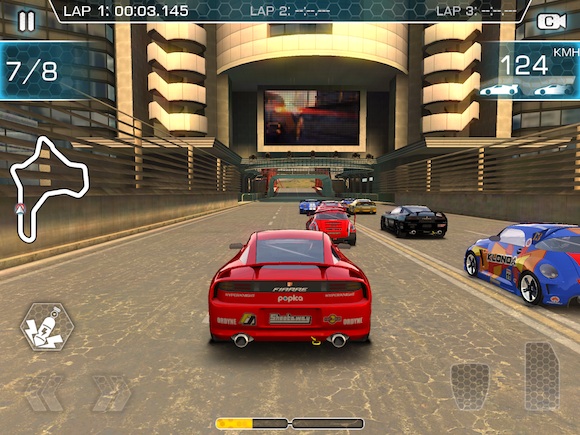 With it comes a number of challenges (which in turn are divided into a bunch of tournaments each with their own races) and grand prix that take place over 10 unique levels, with 20 courses spread across them. As you can imagine, there's plenty of racing to be had in this game and the key things to remember are: drift always, and always take the opportunity to upgrade your machine.
Drifting is essential as the act of doing so recharges your boost meter (nitrous) in races, and upgrading your car gains you more nitrous slots to fill and utilise during a race. Other parts shouldn't be neglected as well, such as the engine and running gear. The latter actually consists of tyres and suspension and can be further tweaked in order to affect the way you drift or the level of grip. One issue I do see in the game though that it is possible to pay to win, as all these upgrades require in-game credits that can either be won, or purchased through IAP.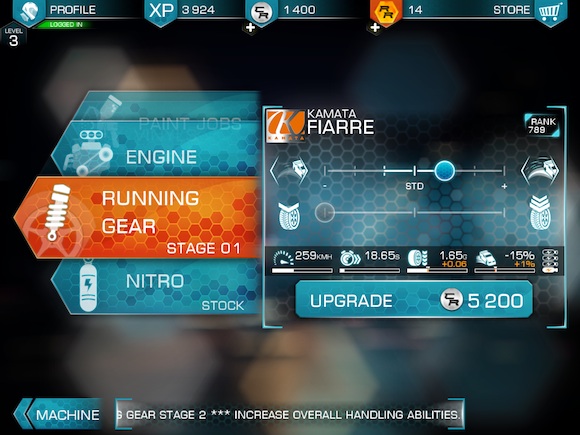 Winning in-game credits definitely constitute the harder route to take, but in my experience, it's also the most satisfying. Things like completing daily tasks (which resemble challenges), drifting and generally performing well in races will net you both XP and in-game credits. Controls wise, players have a choice of 4 different control schemes to choose from and I usually pick the one with the most virtual buttons since I find tilting the iPad to turn to be a cumbersome chore.
Check out my gameplay video. The A.I is aggressive, and the cars are not afraid to slipstream to slingshot around your car at any given opportunity. You can expect a bumpy ride all the way to the end of a race and I only manage to win this one with a last minute boost with the finish line in sight. Ridge Racer Slipstream is one of the prettiest 3D racing games that I've encountered on the platform, and the beauty plus the sense of speed is beautifully conveyed on my iPad 4. It's probably best that you terminate other apps running in the background before starting the game as I've experienced the game stuttering when I failed to do so.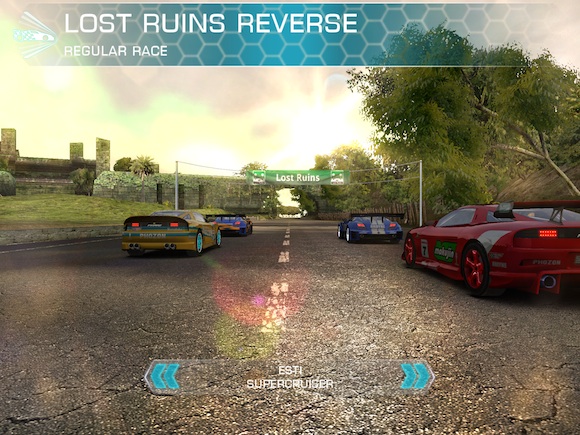 Overall, Ridge Racer Slipstream is an accomplished arcade racer for iOS devices while managing to look really good. Nineoverten.com rates the game at a 5 out of 5. HIGHLY RECOMMENDED. The game is available for USD 2.99 on the iTunes App Store: https://itunes.apple.com/au/app/ridge-racer-slipstream/id725879978?mt=8.
A review code was provided for the purpose of this review.
Powered by

Sidelines
Previous Post Big Fish Games Launches 2nd Annual Online Gaming Scholarship for Higher Education
Next Post Galaxy Run (iOS) 2D Platformer Adds A Marathon Of Fun With New Update