Cheap Games: Humble Indie Bundle X Adds New Games, Brutal Bundle Debuts With 10 Games
Pretty interesting stuff on the Bundle front. First of all, the Humble Indie Bundle X has three more awesome games added to it: HOARD, Strike Suit Zero and Toki Tori 2. That brings the total bundle value to over USD 135. You'll need to pay above the average of USD 5.24 to get the three games, along side the other two locked titles Reus and Surgeon Simulator 2013. The other four original titles are Papo Yo, Joe Danger 2: The Movie,  Runner2 and To The Moon. All of these games are available on the Mac, PC and Linux. If you haven't gotten the bundle yet, check it out over here: https://www.humblebundle.com.

Next is the 10-game Brutal Bundle from Bundle Stars which nets you 10 Steam keys for just USD 4.99, and by participating in the bundle, gamers actually help fund future games by awesome indie game developers including Curve Studios, creator of the highly acclaimed Stealth Bastard Deluxe. Available over at https://www.bundlestars.com/, the Brutal Bundle consists of the following titles: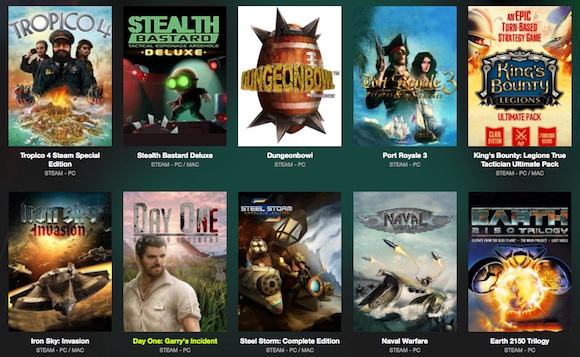 Take on the role of El Presidente in Tropico 4: Steam Special Edition* and shape the future of your nation, and more importantly, the size of your off-shore bank account.
Experience the extraordinary gameplay that earned Stealth Bastard Deluxe* an impressive 80% Metascore. Can you conquer over 80 levels of tricky platform puzzles?
Grab the True Tactician Ultimate Pack for online fantasy strategy game King's Bounty: Legions, and you'll be better prepared to defeat the deadly creatures you encounter.
Become an Adventurer or a Trader in the Caribbean during the turbulent 17th Century in the epic strategy game Port Royale 3: Pirates & Merchants*.
Dungeonbowl is the next exciting Blood Bowl® online experience, set in the fantasy American Football inspired game world already adapted as a video game by Cyanide.
Defend Planet Earth from an invading Nazi horde, reborn in the depths of space in space odyssey Iron Sky Invasion.
Explore a vast hostile environment and solve intriguing puzzles as you fight for your life in FPS survival action game Day One: Garry's Incident*.
Control an advanced hovertank packed with sophisticated weapons and fight against extra-terrestrial invaders in top-down action shooter Steel Storm Complete Edition.
Battle against cunning enemies and decide the fate of the universe in Earth 2150 Trilogy.
Lead your troops against wave after wave of massive attacks from ships, planes and gigantic special forces in Naval Warfare.
All the games run on Windows PC and four of the games (Stealth Bastard Deluxe, King's Bounty Legions, Iron Sky Invasion and Steel Storm Complete Edition) work on Mac. Four games (marked with an asterisk) also include Steam Trading Cards – with cards for Port Royale 3 making it possible to unlock a controversial emoticon on Steam!
Powered by

Sidelines
Previous Post Hit Indie RPG Avadon 2: The Corruption Coming to iPads This February 2014
Next Post Now You Can Buy iOS Apps….Using Bitcoins