Chain Reactors Slots Review
Chain Reactors turns slots gaming convention on its head and provides players with a welcome entertainment attraction. This game showcases many exciting characters such as Sunny, Zoid, Cylco, Spiky, Goldie, and Flirty. Each of these bouncy Chain Reactors is uniquely attractive with rich animation to boot.  What I like most about this game is the fact that it is unlike any other slots game you're likely to find. The closest game to Chain Reactors is Bejeweled – in terms of its structure – but this one certainly takes the cake as a fresh entrant to the highly competitive slots arena.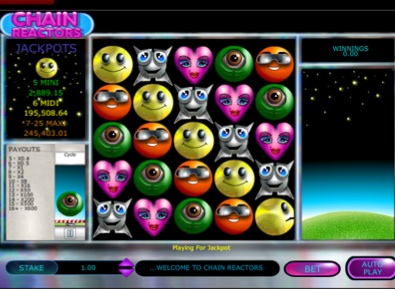 It's great that Chain Reactors allows bets of all sizes. Minimum stakes start at 20p and wager go up to £12 per bet.  There are scores of jackpots available to players. For example, at the time I was playing this game, there were 5 Mini Jackpots at 2,891.52 , 6 Midi Jackpots at 195,511 and 7-25 Maxi Jackpots at 245,403. Of course these jackpots can grow to much bigger amounts – it all depends on how much activity is taking place in the game.  If you take a look to the bottom left of the screen you'll notice a bevy of bouncing characters – each of them with listed payouts. The minimum stakes are listed alongside the real jackpot winnings per character in Chain Reactors.  Payouts range from 5 characters of the same kind to 16+ characters with massive winning potential.
Once you've selected your bet size – your stake – Good Luck – flashes across the screen and the cute and cuddly alien symbols fall down the screen to form winning combinations. If you hit the right combinations of symbols on screen, you'll keep on winning as long as combinations of symbols continue forming patterns. Autoplay functionality makes it possible for you to keep on playing anywhere from 5 to 50 spins at your chosen wagers. Provided you've got a sufficient balance in hand, you can continue playing in the autoplay mode.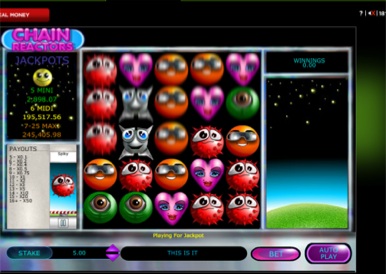 Funky beats – reminiscent of 80s style arcade games – characterize Chain Reactors.  But as a player you're no doubt going to be more interested in the prizes up for grabs than anything else. The high-paying jackpots are enticing – you'll not want to miss out on the prizes up for grabs in this action-adventure slots game. So get this: the characters you want to feature prominently on your screen are Flirty and Zoid – they're really high paying. There are 3 mega jackpots up for grabs and prizes vary depending on what symbols you're able to match up. Once you've filled a chain, the line explodes – hence the name Chain Reactors – and new symbols fall down to replace the exploded symbols. You'll notice that there are always 25 symbols on your screen at any time.
Look for 5 Goldie symbols to hit a mini jackpot; 6 Goldie symbols to hit a Midi jackpot and 7 Goldie symbols for the Maxi jackpot!
Powered by

Sidelines
Previous Post Battle Supremacy (iOS): Open World Tank Battles Make Stunning Debut on App Store
Next Post Polar Vortex? Whiteout Watch (iOS) Is Here To Tell You The Snow Days for FREE!