Lost Chapters HD (iOS) Game Review: Have Fun Exploring A Mysterious Island
If you were around me physically the past few days, you would have noticed that I've been playing with a cutesy looking iPad game called Lost Chapters HD, but don't let the chibi-like facade fool you, this game that I've been playing is an unlikely, but surprisingly good mash between genres. This game by the folks at Crazy Bit/Nexters who brought you Lost Island HD is actually a prequel, and it combines elements from both city-building games and adventure quest/puzzle games. The premise of the game has you managing a team of scientist exploring a mysterious island.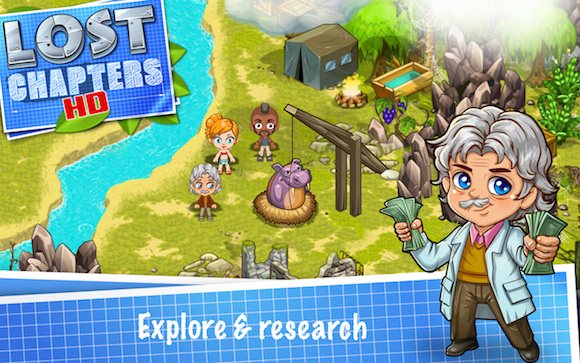 In order to do so, you'll need to set up camp by clearing out a landing area by the beach by directing your team to do tasks such as cutting wood and clearing out grass which take up resources such as food and water. Setting up camp means that you'll need to build structures as well, which includes a camp, an outdoor kitchen and a sonar among other things. Building stuff takes up other resources, but stuff like wood can be obtained from cutting wood, while food and water are replenished on a regular basis by supply drops from the beach or from buildings that you build (e.g. the kitchen).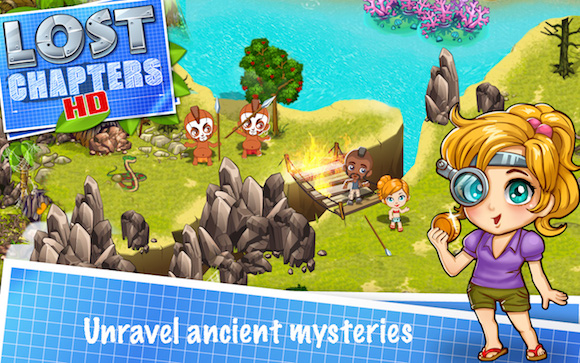 The game can be a little overwhelming as there are a number of resources to track and you can basically go nuts (in a fun way) directing your team of scientists into a bunch of terraformers LOL, cutting everything down and clearing everything up. But that's besides the point. The game comes with a whole bunch of quests to keep you occupied. Some will require you to build certain structures, harvest certain resources, hunt for treasure, explore ancient temples, conduct experiments/research…the island is a vast piece of real estate and I doubt anyone would get bored with the amount of variety in the quests.
Players are rewarded with more resources and gold as well as experience points. The XP are important as you level up, you get to build more structures. As a free to play title, you can probably guess that all these doing tasks and building structures will take time, and to speed them up, you can either use gold or diamonds earned from playing the game, or purchase additional gold/diamonds through IAP. I've been playing the game for days now and I've not encountered a situation whereby I need to spend real-world cash on the game. That's a very positive sign.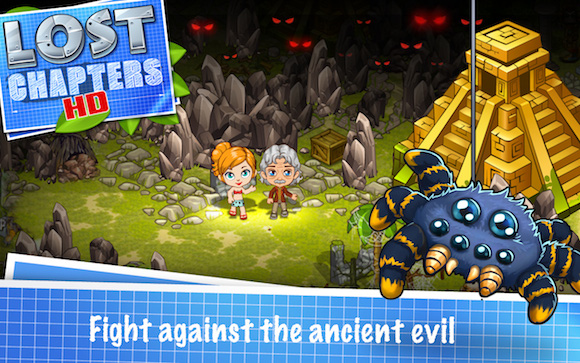 There's another way to earn stuff, and that would be to keep an eye on the developer's Facebook page for promo codes, or by sharing through the game using Facebook. Don't let the busy work make you turn a blind eye on the sights and sounds of the island. Lost Chapters looks really great on the iPad, and the amount of parallax scrolling effect with the clouds and fog moving in from time to time, it just adds up to the whole exploration vibe. The game comes with Game Center achievements as well, which is kinda like the icing on the cake.
Nineoverten.com rates Lost Chapters at a 4.5 out of 5, the game is a must have :). The game is available as a universal app for iPhone, iPod touch and iPad; you can check it out on the iOS App Store over here: https://itunes.apple.com/app/lost-chapters-hd/id673925609?mt=8.
Here's a pro-tip: Get rid of the crabs at the start, they'll steal your supplies!
Powered by

Sidelines
Previous Post The Pygmies of Pocket God Return to Fly and Die in Ooga Jump (iOS)
Next Post New Word Game Jumble Pun (iOS) Released On App Store