Kingdom Rush: Frontiers (iOS) Game Review – Hardcore Tower Defense at Its Finest
From past experience with Tower Defense games, they almost always feature progressive difficulty as players go through the motions of advancing through the levels. This is done so that players can get a grip at a particular game's mechanics (not that they differ much) before getting bigger and crazier hordes of enemies thrown at them.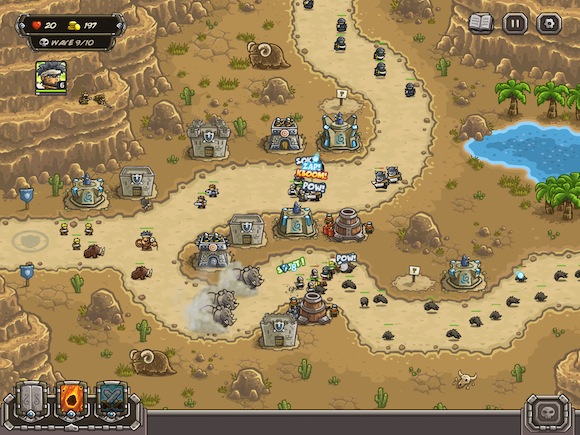 This isn't the case for Kingdom Rush: Frontiers, the follow up to Ironhide Game Studio's original smash hit Kingdom Rush for iOS devices. The game hits hard and fast, and what was running through my mind during the early levels was "Well, that escalated quickly" and yup, things really got out of hand as MASSIVE hordes of enemies overran my weak-ass troops produced by a paltry number of towers that would each take a number of upgrades to produce hardcore troops. As negative as the previous line might sound, this is actually a refreshing change.
The hordes consist typically of bandits at the start before escalating (there's that word again) quickly to featuring heavy hitters like genies, mummies, things that go tunneling underground, wargh-like beasts, gorillas, etc etc. On the player's side, the game has upped the ante over the original, with new towers producing necromancers, mages, crossbow-women, knights, etc to special structures that enable players to purchase mercenaries. On top of that, players control customizable hero units and request for backup when in a pinch.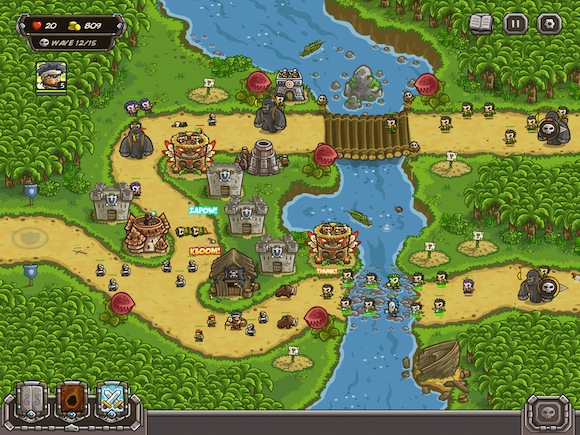 There was a time in one of the desert themed levels when I thought the game was set on Arrakis  (yeah, WTH right?). Reason being, a giant sandworm came out of nowhere and devoured everything in its path…@_@.. Such things add up to the chaotic nature of Kingdom Rush: Frontiers and this is exactly what is needed to shake up the Tower Defense genre. Having said that, I absolutely love the levels, they have a cute cartoon-y visual flavour about them to complement the crazy hardcore action.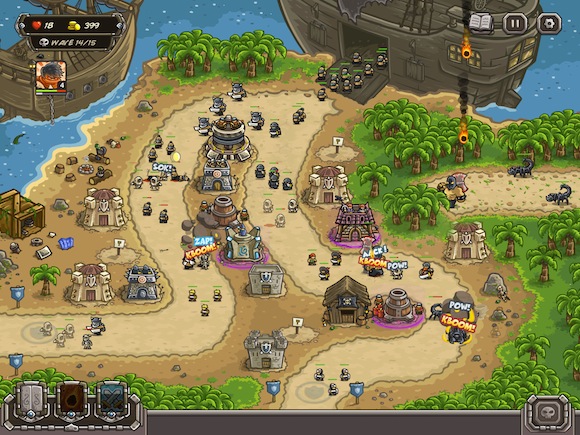 Kingdom Rush: Frontiers has just received a new upgrade today, title The Rising Tides, featuring, as you can guess from the title, new nautical-themed baddies, heroes, maps and tons of other surprises. With such support from the developers at Ironhide, this is one game that deserves to be in the app library of any Tower Defense fan worth his or her salt. Nineoverten.com rates Kingdom Rush at a 5 out of 5. This is hardcore Tower Defense at its finest.
Kingdom Rush: Frontiers HD is available for the iPad for USD 4.99 (https://itunes.apple.com/us/app/kingdom-rush-frontiers-hd/id598581619?ls=1&mt=8) while the iPhone/iPod version is available for USD 2.99 (https://itunes.apple.com/us/app/kingdom-rush-frontiers/id598581396?ls=1&mt=8)
Powered by

Sidelines
Previous Post Hero of Many (iOS) Game Review: Paying Homage to a PS3 Indie Great
Next Post Meet Schein, 1st Place Winner in Microsoft's Imagine Cup 2013 Games Competition