Jealous Much? Spacetime Studios Mobile MMORPGs Hit More Than 250 Million Play Sessions!
The folks at Spacetime Studios certainly deserve a pat on their backs. I remember playing their first MMORPG for the iPhone, Pocket Legends, which was probably the first 3D MMORPG on smartphones. The company has since released Star Legends, Dark Legends, and Arcane Legends, and when combined together have been downloaded more than 20 million times.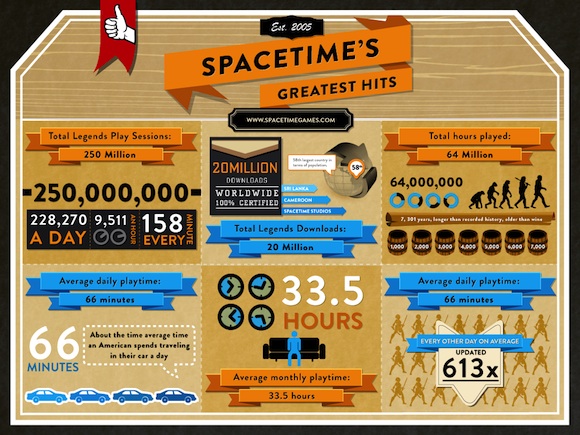 This has resulted in the games amassing more than 250 million play sessions! Just check out the infographic above for some mind-boggling numbers and I've got no doubt PC and console game makers would kill to have these numbers . According to their press release, Spacetime players also log engagement far above industry average, spending more than twice the number of hours playing Legends titles than the average gamer spends across all mobile games in a month.
The typical Spacetime player spends an average of 33.5 hours per month on Spacetime's titles, almost 3 times as much as the average iOS player's total monthly gameplay and four times more than Android players. iPhones players spend about 12.3 hours per month across all games while Android players spend around 8 hours per month on average according to Arbition Mobile.
"A quarter of a billion play sessions is a significant milestone, but what really excites us is the engagement," said Gary Gattis, CEO, Spacetime Studios. "Spacetime's players have logged more than 7000 years of game play. That is longer than recorded history!"
Powered by

Sidelines
Previous Post Wolverine Jumps On Board The Deadpool Game Bandwagon (Xbox 360, PS3 & PC)
Next Post Children Colouring Book App Pictus (iPad) Goes FREE This Weekend