The Humble Indie Bundle 8 Debuts With Hotline Miami An Unlockable!
Just when I thought when would the next Humble Bundle would come out (yes, I'm that cheapskate sometimes when it comes to filling up my games library), an email came in earlier this morning while I was sleeping, stating that The Humble Indie Bundle 8 is now available for purchase! This bundle features 5 indie titles from the get-go including the awesome-looking Awesomenauts, the trippy Thomas was Alone, Little Inferno, Capsized and Dear Esther. You'll also get the soundtracks for all 5 games!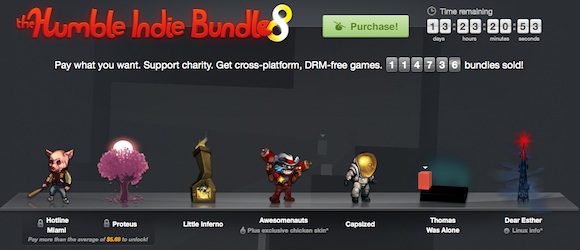 Now, here's the best part, if you were to exceed the average price paid for the bundle (which at press time stands at USD 5.69) you'll get Hotline Miami and Proteus (with its soundtrack as well). All 7 games are cross-platform, meaning that they run on PC (Windows), Mac and Linux. It sounds totally awesome and rightly so. I've already purchased the bundle, so how about you? It's a good opportunity to do some charity as well, since proceeds head to Child's Play Charity and the Electronic Frontier Foundation.
Head over to https://www.humblebundle.com/ to get started.
Powered by

Sidelines
Previous Post Awesome Looking 3D Turn-Based Game Tactical Clash (iOS) Scheduled to be Released This Summer
Next Post Wolverine Jumps On Board The Deadpool Game Bandwagon (Xbox 360, PS3 & PC)