Psylocke and Mr. Sinister Join Deadpool in Upcoming Activision Video Game
Hehe…. one of our favourite comic book characters, Deadpool, is having some company in his upcoming video game for the Xbox 360, Playstation 3 and PC, aptly titled Deadpool. You see, the neurotic, or should I say, totally unhinged anti-hero, had a problem with sharing space with other superheroes/villains, but we have his therapist to thank as Mr. Sinister and uber hot fan-favourite Psylocke are making their way to the game as well. Check out what the man has to say about this:
A note from our friend Deadpool:
Sooo, uhhhh, APPARENTLY there are characters in my new upcoming Activision game, DEADPOOL, who are not Deadpool! Right??
I thought it was pretty clear when I said I wanted a true Deadpool game that it would star Deadpool…in every role! My star power shouldn't be limited to the central protagonist. I should be playing the hero, the anti-hero, the villain who eventually changes sides to join forces against the TRUE villain (me), the romantic interest, the quirky best friend, the comic relief, and at least 8 other characters in fat suits! Is that too much to ask?!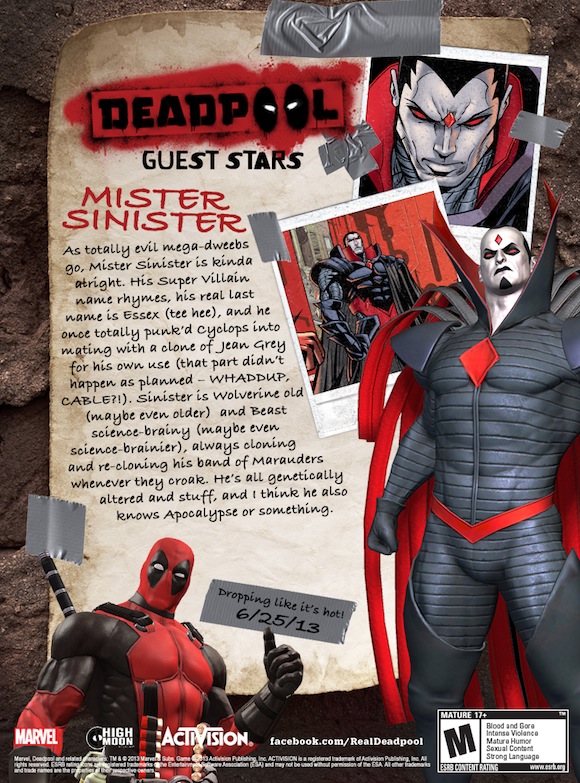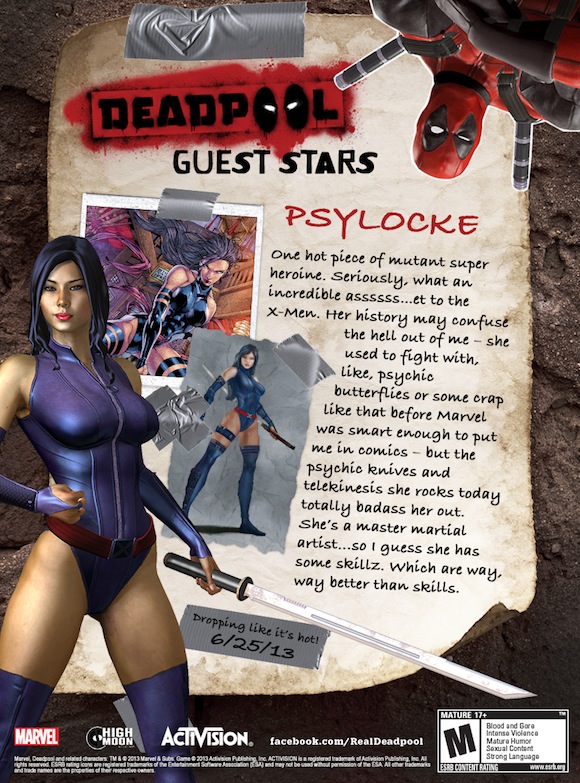 But…I've been talking to my therapist…and she says it's important that I not allow the existence of other people who are not me to determine my own self-worth. I just have to be the best unhinged mutant mercenary I can be. So, here's a look at some of the…other…characters you can meet in DEADPOOL…
Powered by

Sidelines
Previous Post Teenage Mutant Ninja Turtles: Out of the Shadows – Michelangelo Spotlight
Next Post App Spotlight: Electronics Engineering Toolkit Pro for iPad