Clouds & Sheep Premium (iOS) Game Review: Fancy Being a Good Shepherd?
Sheep are such interesting animals, just as long as they are under the stewardship of a responsible shepherd, they live such cushy lives. HandyGames latest iOS title Clouds & Sheep Premium allow players to become a virtual shepherd, taking care of their flock of sheep. While the sheep just go about their business eating grass and drinking water, being a virtual shepherd turned out to be pretty interesting and fun.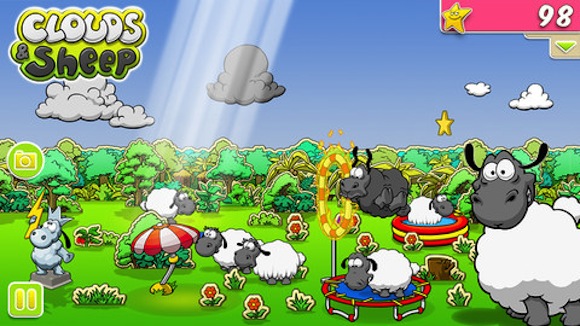 The game gets players to do plenty of tasks, from forming rain clouds to water the pasture, seeding the land with grass and flowers, causing love to blossom among those in your flock (which creates new sheep) to more crazier stuff like jumping on trampolines and going through hoops or fire. It's pretty busy work and each level is filled with a whole bunch of objectives riding above your tasks.
There's something quite relaxing though playing the game once you've fallen into sync with all the task handling. Handygames hit the jackpot with this kind of casual gameplay as it is fun and rewards well. When done right, you'll have a whole bunch of happy sheep generating happy stars for you to collect and to spend on buying cool stuff. At the end of each level, players are rated on how many happy, ambivalent and pissed (angry, not drunk) sheep that they have.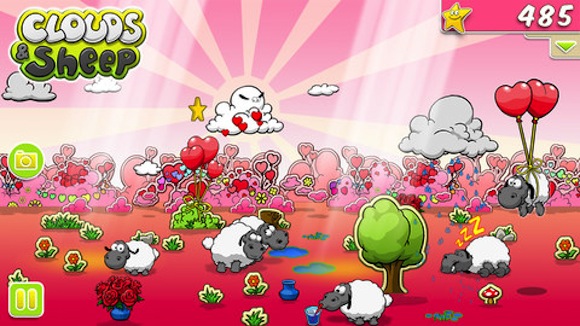 Each level happens to be themed and along with Clouds & Sheep Premium's beautiful 2D graphics, the game's visuals are certainly easy on the eyes and work to accentuate the gameplay. Nineoverten.com rates Clouds & Sheep Premium at a 4 out of 5, the game is definitely worth checking out. Clouds & Sheep Premium is available on the iTunes App Store for USD 1.99 (https://itunes.apple.com/us/app/clouds-sheep-premium/id529061013?mt=8).
Powered by

Sidelines
Previous Post Big Pixel Studios Announces Bottle Cap Blitz (iOS) Coming on April 11th!
Next Post Clash of Elementalists Arriving on Nintendo 3DS and DSi This April