Metal Junk (iOS) Game Review
The folks at Mexican digital agency Grupo W have a pretty interesting iOS gem of a game in the form of Metal Junk. The game is their take on a game genre that has been made popular on iOS devices and it is a genre that can count Temple Run as one of its luminaries. Yup, Metal Junk is one of those endless running game, but a good one at that.
Unlike most endless running titles where you would play as an Indiana Jones rip-off, a ninja or Barry Steakfries, Metal Junk will have you play as a self-aware robot names Ascii out to save his sorry, metal hide from being chomped on a conveyor belt from hell.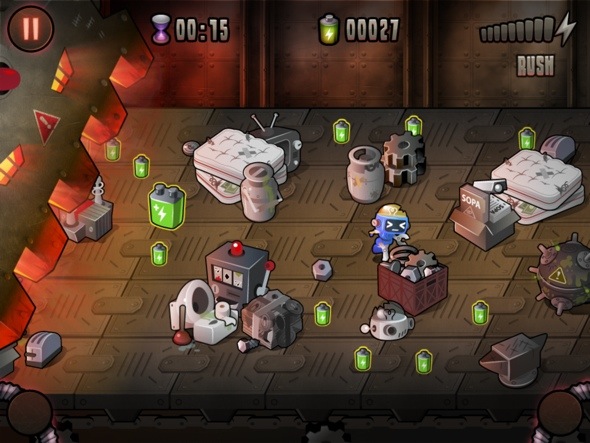 Now, you literally have to get pass a whole bunch of (metal) junk to put some decent distance between Ascii and the chomper. This is easier said than done as there's plenty of heavy stuff lying around, and some of these junk are a danger to Ascii, with some discharging electricity to temporary stun him or exploding and blocking your screen with the resulting debris.
There are some power ups that can help you negotiate the maze of junk, and collecting batteries allows Ascii to unleash an attack that destroys surrounding junk. The developers have done an amazing job welding together great looking graphics with a smooth gameplay experience. I particularly like the startup sequence where the robot gets thrown onto the conveyor belt after it was discovered to be self-aware (poor thing), and keep an eye out on what constitute junk in the game, such tongue-in-cheek humor, LOL.
Players who have done well in the initial Survival Mode can unlock the Frenzy Mode after achieving a certain number of points in the former. There's an added element of social competition with the inclusion of Game Center online leaderboards.
Nineoverten.com rates Metal Junk at a 4.5 out of 5 for providing a beautiful and fun challenge (who would have thought that there's beauty in junk) for fans of the endless running genre. The game is currently available on the iTunes App Store for iPad 2 or better at a price tag of USD 0.99, check it out over here: https://bit.ly/WnOKfV
A review code was provided to Nineoverten.com for the purpose of this review.
Powered by

Sidelines
Previous Post A Beautiful Homage to Model Train Sets: Rails (iOS) Game Review
Next Post This Week in Comics: Talon, Age of Ultron, Wolverine and the X-Men