Crushin' Robots – NYC (iOS) Game Review
This is pretty interesting, I just got a high score playing Crushin' Robots – NYC on the iPad with Natalia sleeping on my lap. All other play-through attempts on this new game by indie devs Falling Objects Entertainment's latest game ended rather dismally but I'll get to that in a moment.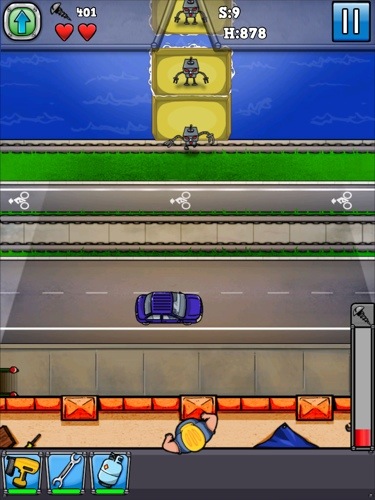 The game is pretty simple with players taking on the role of a lone construction worker taking on an invasion of New York by a bunch of evil robots. The overweight chap is initially armed with some light, for a lack of a better term, weapons such as a nail gun, spanners and gas cylinders.
These basic weapons can at best take you up to levels 5 or 6, as the game gets progressively harder the longer you play. The longer you play, different robot types are unlocked and the 2D graphics do well in conveying the added carnage. Destroying robots also allows players to access power ups and chalk up scrap which can be used to upgrade and get new weapons.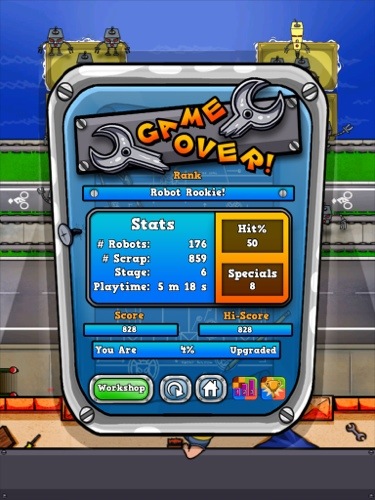 Now here comes the clincher. The weapons come off as being too weak initially and with upgrades seem to cost too much in terms of scraps, it seems a little bit convenient to have in-app purchase function to buy more scraps. I know it makes me sound a little cynical but it looks like you'll need to pay to win or work your fingers off for a long time in the game.
IAP aside, Crushin' Robots – NYC is a pretty polished debut and Nineoverten.com rates the game at a 4 out of 5. The game is now available on the iTunes App Store: https://itunes.apple.com/us/app/crushin-robots-nyc/id568075534?ls=1&mt=8.
A review code was provided to Nineoverten.com for the purpose of this review.
Powered by

Sidelines
Previous Post Chuck the Bot (iOS) Game Review
Next Post Urban Games Hits €250,000 Crowd Sourced Equity Funding for Train Fever (PC, Mac, Linux)