Civilization 5: Crack for New Parents
Turn-based strategy games are a boon to parents with small children. Take for instance Civilization V. You don't need fast reaction times, neither do you need both hands to operate both keyboard and mouse and you spend most of your time watching the action unfurl on the screen. These are the reasons why I took advantage of the Steam daily deal the other day to get Civ 5: Gold Edition; it was just USD 12.99 for the game and all the extras.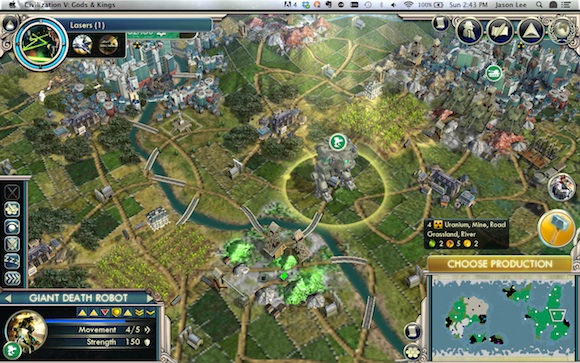 I just finished my first game against A.I opponents, and since no one yelled at me for taking my own sweet time, it took a good 40 hours. That single play-session though, which was staggered across several days, netted me the single most amount of achievements in one play-through: 34! If you have the time and you're on Raptr, check me out: https://raptr.com/jasonlwz. You'd probably notice that I love PC games such as Counter-Strike: Global Offensive, Torchlight 2 and Civ 5.
OK, back to Civ 5. I tried schooling my baby girl in the intricacies of diplomacy, our pastor may preach "Love thy neighbour", but as long as the neighbour is an A.I opponent in Civ 5, it's good to lob several nukes in his direction. This is especially true when that neighbour is Atilla the Hun. That barbarian is has a chip on his shoulder the size of North America and any peace attempt I made was rebuffed; I venture to say that he was downright rude and hypocritical. LOL.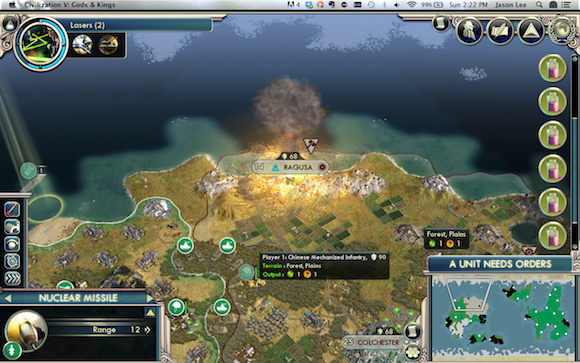 I managed to achieve victory by launching a space ship heading to Alpha Centauri, but this was not before I had a whole bunch of end-game units in play, among which the Giant Death Robot. I didn't manage to see it action though, having shown mercy to Atilla the Hun after decimating several cities of his and then launching the spaceship. Civ 5 has proven to be a time sink, but it's easy on my schedule. If you haven't gotten the game already, you probably should. Just be warned, that "just one more turn" kind of feel is definitely real.
Powered by

Sidelines
Previous Post 247 MISSILES (iOS) Game Review
Next Post Raft Pirates (iOS) Game Review: An Incredibly Frustrating Experience