Gamenauts Set To Launch Medieval Tiny Towers Game Complete With Bloody Battles This March
If you are still playing Tiny Tower, don't you wish for a little bit of spice on your piece of real estate. Nothing ever happens except for visitors and VIPs, but don't fret just yet, as a brand new game is set to allow you to build castles, complete with all things medieval!  Gamenauts, in conjunction with developer Artlogic Games, today announced their upcoming tower building / RPG hybrid, Castle Champions. The first in a series of games published under Gamenauts' Asian indie mobile publishing initiative, Castle Champions combines castle-management simulation with RPG/battle party management. The game is set to hit the App Store for free on March 14, 2013.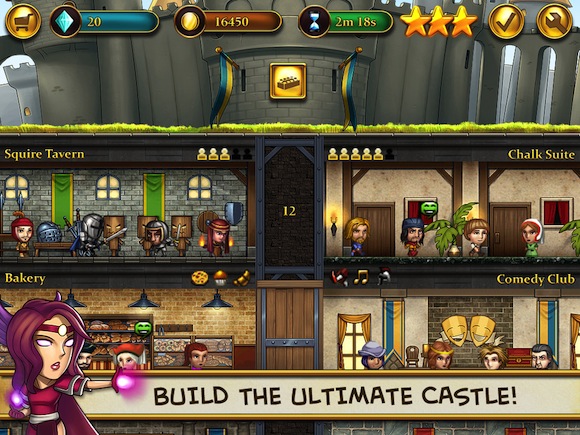 The coveted honor of being the Castle Champion is up for grabs! Players must battle against fearsome enemies such as the Cerberus, Minotaur, and other medieval menaces in the Amateur and Pro Leagues to claim the prestigious title. Train an army with warriors of nine different character classes, including Mages, Crusaders and Paladins, as well as one of six Heroes serving as team captain to increase the army's battle prowess!
The army, of course, would not exist without a formidable castle in which to train. Players must build a castle from the ground up to house not just their warriors but also civilians who will earn the player valuable gold and crystals for being employed in the castle's businesses. Heroes must also be ready at all times to repel the horde of castle invaders!
Stay tuned to Nineoverten.com come March 14th for the launch announcement, and see you in Castle Champions.
Powered by

Sidelines
Previous Post Disney Launches Toy Story: Smash It! (iOS & Android), Updates Where's My Perry
Next Post Towelfight 2: The Monocle of Destiny (iOS) Game Review