[Sponsored Post] Get DVD Bargains At Tesco.com
The Dark Knight Trilogy, The Lord of the Rings Trilogy, Dredd, Troy, 300…these are just some of the movies that I've been watching at home recently; it seems that with parenthood comes a strong urge to just watch movies whenever I have time to myself.
I don't think it is a bad thing since aside from the old stuff such as the aforementioned trilogies, I managed go catch up on some of the newer ones that I missed watching at the cinema (due to wife being pregnant and all), and they turned out to be pretty good.
One of those movies would be Dredd, the second movie to take on the subject matter of an iconic comic book character. If it isn't enough that Karl Urban was acting with a helmet and bad hair do for the 2nd and 3rd Lord of the Rings movies, this time he has a helmet covering most of his head bar his mouth and jaw line for the ENTIRE movie.
He doesn't take off the helmet for the entire movie (no wonder he looks to be in a bad mood all the time) and not only does he nail the performance, he puts to rest the ghost of that terrible first Judge Dredd movie…you know the one…
Just suppose you find the idea of a weekend movie marathon or even back to back viewing of TV series episodes at home to be rather appealing, there is the question on where do you get the DVDs or Blu-Rays in the first place. Answer: Tesco. And here is the best part: you don't even need to take a drive down to the nearest store to get your stuff.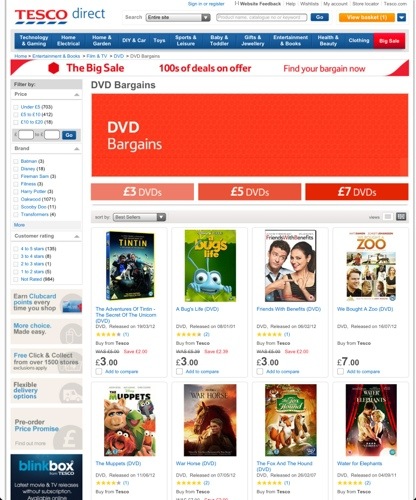 With the Tesco Direct e-commerce site, there are flexible shipping options for the consumer to pick and Tesco Clubcard users get to earn Clubcard points with every online purchase (just like they do in-store) as well as utilize their Clubcard vouchers as well for discounts and rebates.
The Big Sale is currently on-going at the site and there are over 1100 DVD titles at bargain price points of £3.00 to £7.00. You can count titles such as Inception, The Girl with the Dragon Tattoo and Avatar in this bargain bin and I can think of no better time to stock your DVD library. So what are you waiting for? Tesco gives you options on your favorite DVDs.In the mean time, I've got a bunch of movies to catch 🙂
Powered by

Sidelines
Previous Post Steam Reaction (iPad) Game Review
Next Post Gunslugs (iOS) Game Review: Crazy, Frantic Action, But in a Good Way