Solarian Tactics (iPhone) Game Review
I actually missed out on getting X-COM for a discount on Steam, but then again I'm not too sure whether I've the time to invest in the game, considering my duties as a new dad to a beautiful daughter :). Fortunately the folks at Haiku Games asked me to check out their turn-based tactical RPG for the iPhone, Solarian Tactics.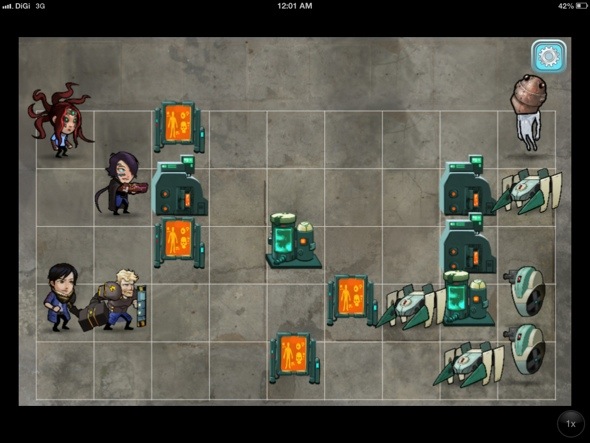 The game is story-driven, set in the future where humans augmented with Gentech gain special abilities. Each level is actually an encounter, pitting your squad of augments with the enemy in a certain location. Yup, there's no such thing as running about an over world map, and that's a good thing since that over worlds got rather old in Final Fantasy. Watch out for the dialogue in between missions, it's rather funny.
Fighting and winning in levels nets you XP for individual characters (gaining new levels and unlocking new power-ups in the process), while coin is gained as a collective, allowing for the purchase of upgrades. But before you can get to the nice stuff, the enemies featured in the game a varied bunch, and they certainly put up a challenge.
I just got the crap kicked out of me from a level featuring some robots dealing knock back damage, flying robots that bypass obstacles and a long-range TK creature who shoots mind blasts from one end of the level to the other end. It sounds crazy but even for a casual game, you are bound to get sucked in by the level of challenge it provides.
The levels have a chess-game kind of quality as you need to position your troops with care, retreating whenever possible and playing to your individual augment's strengths. The game's 2D graphics are nice but the animations are found to be a little wanting, but doesn't deter the gameplay by much.
A challenge mode is unlocked after a few levels into the Story mode, giving players something else to do as well. Nineoverten.com rates Solarian Tactics at a 4.5 out of 5. HIGHLY RECOMMENDED. The game is available on the iTunes App Store, check it out over here: https://bit.ly/TfwDnG
A review code was provided to Nineoverten.com for the purpose of this review.
Powered by

Sidelines
Previous Post Game Over, Do You Continue?
Next Post CES 2013: Dead Trigger 2 Arriving Exclusively For NVIDIA Project Shield