Real Boxing (iOS) Game Review: A Real Champ in the Ring
You know, I never had a more satisfying bout than the one that I had just now in Real Boxing for the iPad. Vivid Games latest magnum opus for iOS devices  (yup, it's available for the iPhone and iPod touch too) features some of most, awesome graphics available on the platform, courtesy of the Unreal Engine platform. But graphics aside, what matters more was the boxing, and boy, Real Boxing really delivers a knock-out punch in this aspect.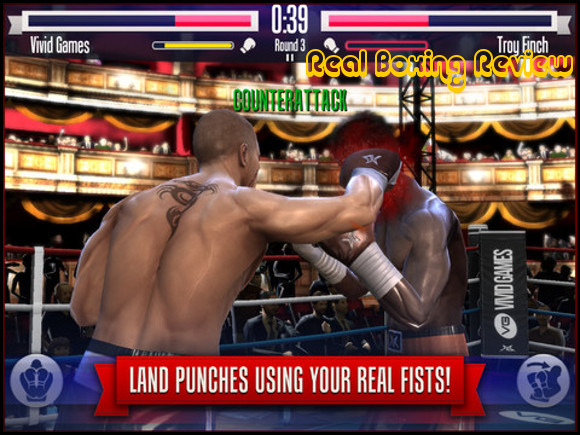 Players start off by picking a fighter and a nationality, and the tutorial takes players through the ropes of being a pugilist (but there's more!). Once you've gotten to grips with either one of the two controls available, you basically can go for a quick match, go through a career mode or, if you have the guts and skills, take it online via multiplayer matches courtesy of Game Center.
My particular boxer went through the early rounds of the Rooster Cup, and despite the lower difficulty from the get-go (it gets harder as you advance), I couldn't help but be impressed with the matches that I had. I don't watch pay-per-view boxing, but each punch, dodge, block and counter, reminded me of my favourite Japanese manga, Hajime no Ippo. That manga revolved around boxing, and Real Boxing gave me the opportunity to act out the matches from the manga, right here on my iPad.
Real Boxing is a that game rewards timing and the graphics really accentuates this. Counter an opponent or lay on a beating and the damage that you inflict on your opponent shows up on their face, conveying the feeling of fatigue and pain at the same time. Punches thrown may result in mists of blood and you may be on the receiving end as well. If your fighter ends up taking a lot of damage, the screen blurs and the speakers emit static…it's probably a good time to clinch.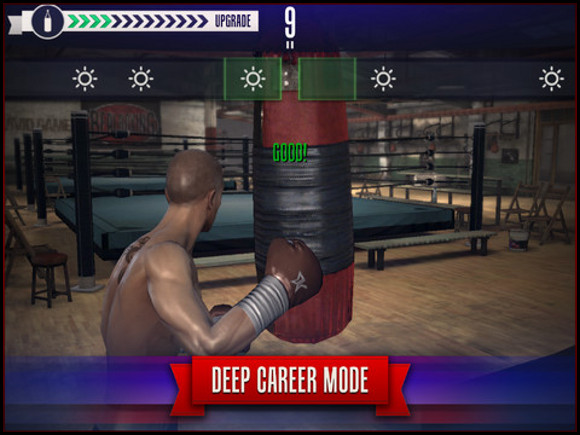 Such realism on the arena is also reflected off the arena in the form of training. Your fighter can hit the gym to build up certain attributes and these take the form of fun little mini games. You also get to spar with training partners and trust me, all the time invested in this (virtual) gym, will make you a better fighter in the game. Winning matches allow for credits to be earned, and this in-game currency can be used to buy new kit for your fighter (and this includes tattoos!) or give a boost to your training as well. The entire experience feels really complete.
Despite some clipping issues with the graphics engine, Real Boxing has proven to be the real champ of boxing genre on iOS devices, and would be the benchmark for other games to beat, moving forward. Nine Over Ten 9/10 rates Real Boxing at a 5 out of 5. HIGHLY RECOMMENDED.
A review code was provided to Nine Over Ten 9/10 for the purpose of this review.
Powered by

Sidelines
Previous Post Partner's Message: Thoughts on Playing 3D Poker at PKR
Next Post Stargate Command (iOS) Goes Mortal Kombat With New Fighting Mini Game