Indie Game Developer Interview: Chris Garrett (QatQi)
Indie developers are in the spotlight these days. Just recently Atari published an iOS indie title which won first prize in a PONG-themed developer competition, and the folks at Samsung have wasted no time in promoting new talent via Appstar competition. So it's only natural for us to kickstart the week with an interview with indie developer Chris Garrett, who came up with the excellent iOS word puzzle game QatQi (read our review here)
Check out what he has to say about the game and the valuable experience of releasing a mediocre game first before following up with a great one:
Nine Over Ten 9/10: Tell us more about yourself and how you started developing mobile games?
Chris Garrett (CG): I've been dabbling in game development since my parents brought home a TRS-80 when I was in second grade.  Fast forward a few decades through a biochemistry degree and a few software development tools companies, and I started doing contract game development for mobile devices in 2004.  When the iPhone SDK launched in 2008, I immediately jumped on it.  At the time I was actually most excited about the App Store, not the iPhone itself. The App Store opened up a huge opportunity for mobile developers to publish their work without artificial industry barriers.  Since 2008 I've been doing contract iOS work to pay the bills while working on game ideas in my spare time.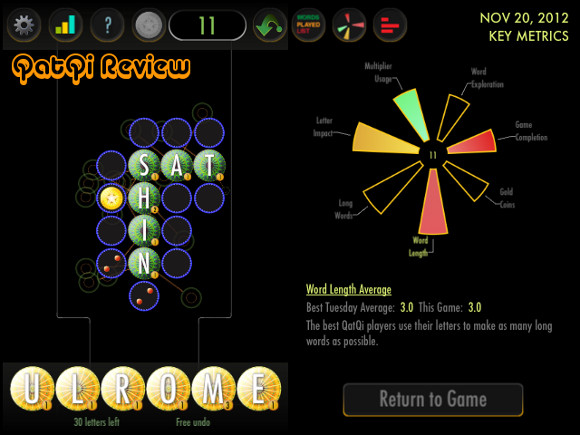 9/10: What was the idea behind QatQi? Why of all things a word game?
CG: I've been an avid Scrabble player all my life.  But for me, the mobile Scrabble experience is like getting a gourmet meal delivered in cold, leftover portions over the course of a few days.  So I started out wanting to create a word game that had all the satisfaction of real-world Scrabble, but completely redesigned for mobile devices.  My first word game, Lexitect, was the progenitor of QatQi.  The design goal with QatQi was to create a word game that could be played for years and still stay interesting.
9/10: How has the response been to QatQi on the iTunes App Store? Could you describe the process of marketing your games?
CG: The response has been phenomenal!  Sometimes it seems like the online world is full of "haters," but the response for QatQi has been overwhelmingly positive.  Even people who have pointed out glitches have generally done so politely and constructively.  I get a lot of personal emails from people thanking me for creating the game.  This has all been unexpected but very rewarding.
Marketing is not my strongest skill, but I fully understand how crucial it is to conduct a good launch.  So I took some of my hard-earned savings and put it toward a launch campaign with TriplePoint PR.  This was my biggest financial expense for the game, and in hindsight it was completely worth it.
9/10: Could you share with us a little on what you'll be working on next? Any plans for releasing games on other platforms?
CG: Working with artist & director Kun Chang has been phenomenal.  He is one of the most talented people I have ever met.  However, in order to release QatQi this year I had to make some tough decisions to cut a few features from our design.  As Steve Jobs said, "real artists ship."  So in the next few months we're going to be enhancing QatQi with some of Kun's more challenging aesthetic ideas.  Once we consider QatQi complete, we'll consider porting to other platforms.
9/10: Any words for aspiring game developers out there?
CG: I've seen so many developers release a decent first game, and then they're never heard from again.  On iOS a "decent" game might mean that you spend a year or more on it, and if you're lucky it makes a few thousand dollars.  It gets plenty of bad reviews.  It is really disheartening and makes you question your taste and skills.  But it is absolutely essential that you pick up the pieces and start over again.  Your second game will be ten times better than your first.  QatQi would not exist if I hadn't had the learning experience of releasing a mediocre iOS word game first.
Powered by

Sidelines
Previous Post Humble THQ Bundle: Pay Anything For 6 Really Great Games!
Next Post HeroCraft Celebrates Anniversary With Birds on a Wire (iOS) Game Giveaway