Talking Tom 2 (iOS & Android) Gets Star Trek Uniforms, U.S.S Enterprise and More!
Fans of Talking Tom, the wisecracking cat on iOS and Android, you guys will get to purchase iconic items from Star Trek: The Next Generation in the Talking Tom 2 app. This collaboration is in conjunction with the 25th anniversary of Star Trek and the items will be made available in two-tiers. Beginning from the 30th of November, fans can get Talking Tom the red and yellow uniforms of the Federation Star Fleet.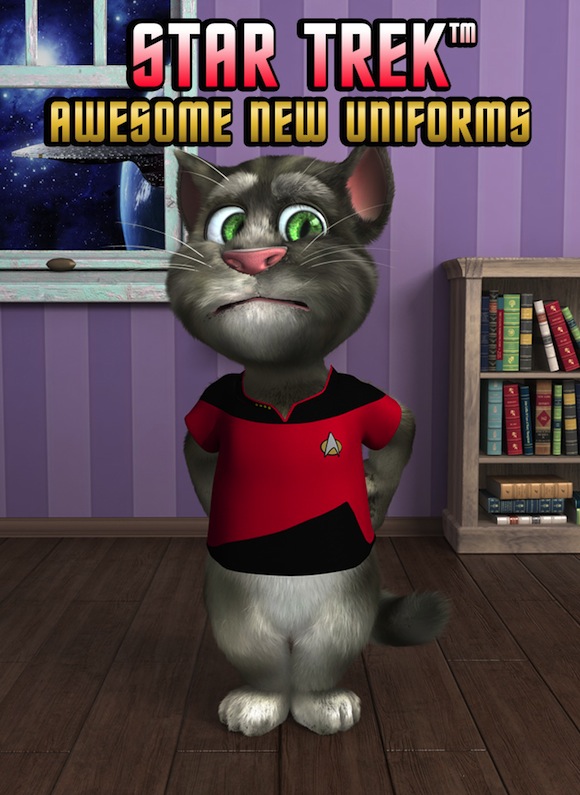 Starting from mid-December, users will be able to purchase the starship Enterprise itself, along with Lieutenant Commander Geordi La Forge's visors. The deal between Outfit7, the company behind Talking Tom, and CBS Consumer Products, was facilitated by IconicFuture, and marks the first time Outfit7 has licensed and integrated an entertainment property into its Talking Friends line.
"We're humbled and honored to incorporate elements of Star Trek: The Next Generation into our app," said Samo Login, Outfit7's founder and chief executive officer.  "Trekkers and fans of Talking Tom alike will revel in the opportunity to see Tom act as Captain or ensign."
"These two great brands complement one another in many ways," said Sharon Bennett of Iconicfuture.  "With its mission to explore new worlds and new lives, TNG has found a rag tag team of friendly characters in Talking Tom 2." Check out the app right over here: https://itunes.apple.com/us/app/talking-tom-cat-2/id421997825?mt=8
Powered by

Sidelines
Previous Post Pong's 40th Anniversary Celebrations Marked With Pong World Released For iOS Devices
Next Post Stealth Bastard Deluxe (PC) Game Review