Weekend Gaming: Counter-Strike: Global Offensive and Torchlight 2
Have you tried out the new update for Counter-Strike: Global Offensive? The new update brings about a fun new map for the Classic mode, called Vertigo. Now, my experience with the old Counter-Strike 1.6 was limited to playing round after round of de_dust (and somehow, this behaviour, or tendency…was brought forward to Global Offensive), so I didn't try the map in it's 1.6 incarnation, but judging from the screenshots, it does look really ugly.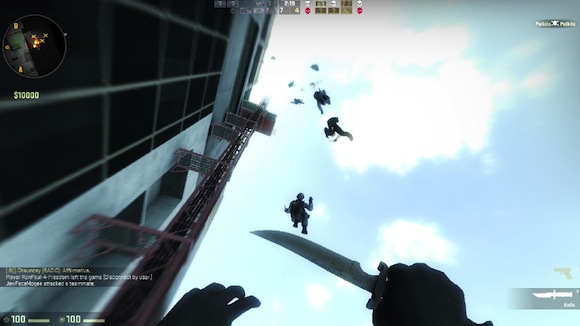 In any case, GO brings a totally updated de_vertigo, complete with glare (if you are starting off as part of the Counter-Terrorists) and busyness of a under construction skyscraper. And boy is this map a real joy to play with. Being a defusal map, playing as the Terrorists faction will lead you to some pitched battles (some where the CT have control of the higher ground) before you can get to the bomb sites.
I had a blast playing this map using either faction, that I totally forgot about Torchlight 2 over the weekend. The screenshot above was taken by a player of some folks doing the bungee jump (without the cord) off vertigo.
Speaking of Torchlight 2, the new update for the game has left me to fight in the desert all over again; pretty strange for a game that doesn't respawn enemies in the first place.  Oh well, at least I can take advantage of this situation in 2 ways: grab more loot, and power-level, and my dear Outlander has leveled up twice before this and I'm still only halfway through the map.
So what did you get to play over the weekend? If you are on Steam, do look me up (jason.lee)
Powered by

Sidelines
Previous Post PlayScreen Poker 2 Released For iOS Devices
Next Post Jumpster (iOS) Gets Revised IAPs for the Benefit of Players