Dead End (iOS) Game Review: Go Bonkers Killing Zombies
Supposedly if someone were to hand me a game featuring someone going amok and shooting stuff, I would think that the developer is trying to do a bit of social commentary, with all the shootings that have been going on for the past few years, the latest being the Aurora incident. However, if the game's character is freaking out and shooting at zombies, I suppose that the game was made in good fun.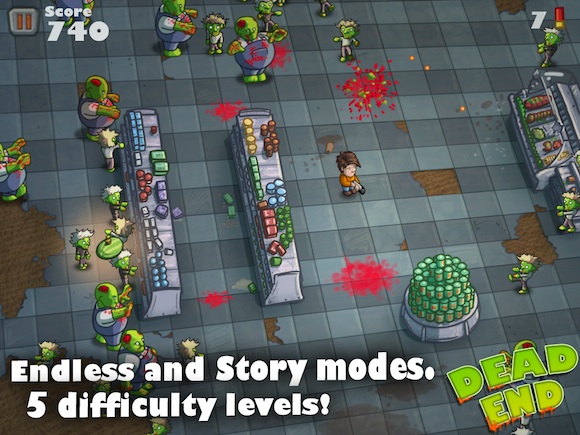 Such a game would be indie developer Randy O'Connor's iOS game Dead End HD in which players control Harold, a gardener who is freaking out during a zombie apocalypse and the only time where he is not running around losing his head would be when he is actually shooting at the undead. Yup, it's kinda like Age of Zombies with a Barry Steakfries gone bonkers.
Dead End doesn't have that large an arsenal as its more illustrious genre counterpart but it more than makes up for it in terms of unpredictability. The controls are such that players can only rotate Harold to shoot, but other than that, he is running about (who wouldn't?) in face of the zombie horde. The game gets increasingly difficult as players go through the levels, with new weapons and zombie-types being unlocked.
I personally had a lot of fun playing the game, and here's a tip, the flame thrower and the mini gun are your best friends. Dead End HD gets a 4 out of 5! The game is available on the iTunes App Store for USD 1.99. Check it out over here: https://itunes.apple.com/us/app/dead-end-hd/id449665764?mt=8.
A review code was provided to Nine Over Ten 9/10 for the purpose of this review.
Powered by

Sidelines
Previous Post Spacetime Studio's Arcane Legends Introduces Pet Companions
Next Post Gaming Table Round Talk: Diablo III, StarCraft II, Fall of Cybertron, CS:GO, Torchlight II