Hotel Transylvania Gets iOS Game Tie-in Based on Diner-Dash Franchise
Hotel Transylvania is Sony Pictures' latest animated feature film, casting a different light on Dracula, this time as a hotel operator whose property caters exclusively for monsters. So how do you create a iOS game tie-in for the movie? In Sony's case, they took the hit Diner Dash franchise, and put in IP from the movie, and as a result, you get Hotel Transylvania Dash!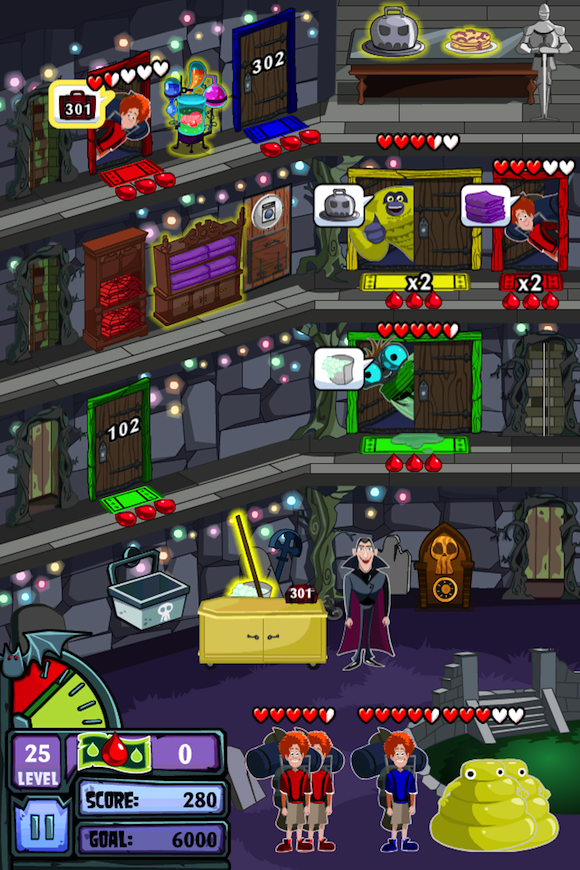 Given the franchise's penchant for controlled chaos as a form of gameplay, players will have to contend with charming characters from the movie as guests including Murray the Mummy, who adores the hotel's signature Worm Cakes; Frankenstein, who has a tendency to sleepwalk; and Wayne the werewolf, who travels with an entourage of pups. Bram Stoker's creation will have to go about booking rooms, deliver room service, and attend to guest needs.
Players begin in the main lobby of the hotel and journey through 30 exciting levels and two additional hotel wings, renovating and improving the hotel as they go. In true Dash fashion, Hotel Transylvania Dash challenges players to race against the clock and juggle multiple demands from lively monster guests, including the SwampMonster's requests for fresh towels and Mrs. Blob's double order of room service to feed her monster appetite! Players can shop for more than 40 spooky-chic hotel decorations and enhancements to create a luxuriously eerie getaway.
"We are thrilled to bring Hotel Transylvania Dash to movie fans everywhere," said Marco DeMiroz, chief executive of PlayFirst. "The game is a great way to extend the movie experience, and gives fans a new and immersive way to interact with the captivating monster characters they will know and love from the movie."
"Hotel Transylvania delivers a fun movie experience for everyone, kids, adults, families and friends, around the world," said Mark Caplan, vice president of licensing and consumer products for Sony Pictures Entertainment. "PlayFirst has done an amazing job of capturing that same sense of fun in this action-packed mobile game. Hotel Transylvania Dash is a terrific way for fans to continue experiencing Hotel Transylvaniaon their iPhone, iPad or iPod touch."
The Hotel Transylvania Dash App is available for free from the App Store on iPhone, iPad and iPod touch: https://itunes.apple.com/us/app/hotel-transylvania-dash/id549710901?mt=8&ign-mpt=uo%3D2
Powered by

Sidelines
Previous Post League of Geeks Debut Title Armello Delivers Six Figure Development at a Fraction of the Cost
Next Post Want To Get A Leg Up On Street Fighter X Tekken (PS Vita), Check Out This Video