Humble Indie Bundle 6 Released, Featuring Torchlight
It's the time, of the season…to put your video games budget to good use in the form of contributing to charity and getting some exciting indie games at the same time. The Humble Indie Bundle 6 is now available on the Humble Bundle website. Spend any amount you wish in order to get 5 indie games and you get to allocate the ratio to which the money goes to (the developers, the charity Child's Play and EFF, and the Humble Bundle guys).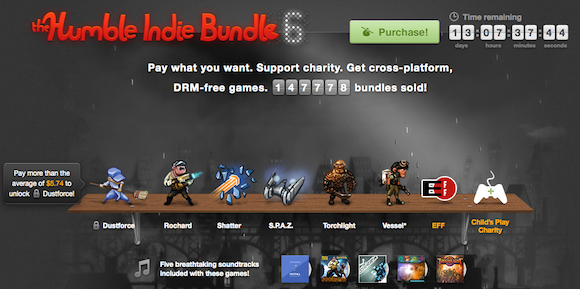 Pay above the current average and you'll get an additional game thrown in the mix. The games in the Indie Bundle 6 make it a pretty compelling purchase. The 5 games include Runic Games' Torchlight. This excellent Diablo-clone is going for cheap probably due to the impending release of Torchlight 2 (which I'll be getting as well :P). The other 4 games are Rochard, Shatter, Space Pirates and Zombies, and Vessel. The bonus title is a beautiful looking platformer going by the title Dustforce.
Some of these indie games come with excellent pedigree, with at least one being available on the Sony PS3 platform. The current average price for the Indie Bundle 6 is nearing the 6-dollar mark at the time of writing, and to me that's a steal. So what are you waiting for? The games are made available for Windows, Mac and Linux, and don't forget you can download the soundtrack for each game as well.
Head over to: https://www.humblebundle.com
Powered by

Sidelines
Previous Post Time Geeks (iOS) Gets New Game, New Updates
Next Post Retro Decathlon 2012 (iOS) Game Review: Capturing the Spirit of Olympics Track and Field